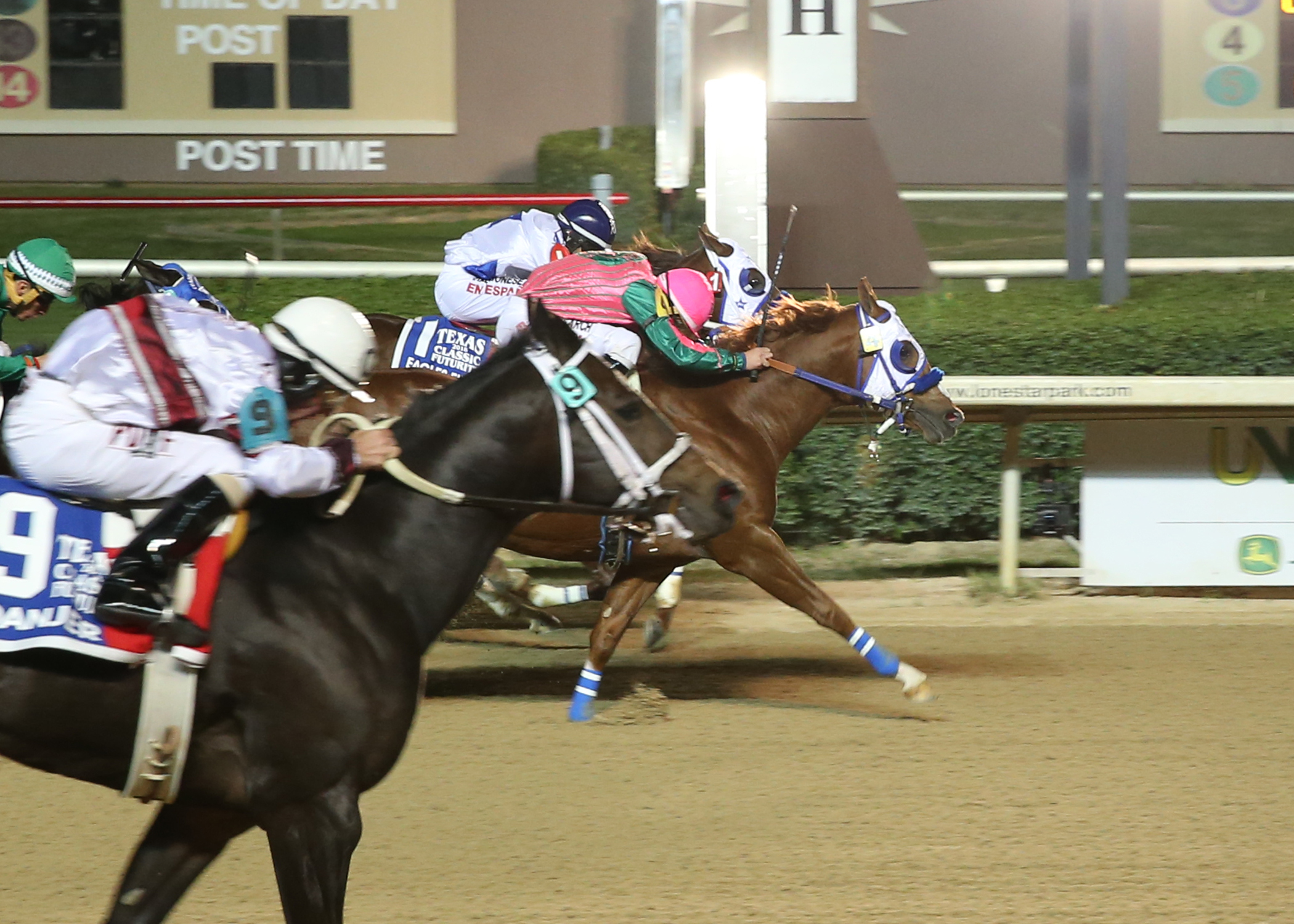 Flying Cowbot 123
Flying Cowboy 123 Took Flight, Just Grabbing the Victory in the Grade 1, $1,014,657 Texas Classic Futurity
(Grand Prairie, Texas - Saturday, November 10, 2018) - What a finish it was in the $1,014,657 Texas Classic Futurity (G1) tonight, with the top three just heads apart at the wire in a photo finish. When the photo went up, it was Flying Cowboy 123 with Ricky Ramirez in the irons, on top. Longshot Eagles Fly Higher, at 28-1, was a head back in second, and it was another head back to favorite Danjer in third. All American Futurity winner Apocalyptical Jess was slow away and never got into the race, finishing sixth.
Having to choose which horse to ride in the Futurity, Ricky Ramirez, who qualified both Flying Cowboy 123 and Apocalyptical Jess in their trials three weeks ago, made the right choice for the win, his fifth in the Texas Classic Futurity. Ramirez first won the lucrative Futurity in 2010 and also won three consecutive in 2014, 2015 and 2016.
"I talked to my wife every night about it for the last two weeks and finally decided to ride Flying Cowboy 123," said Ramirez. "We were blessed to get the victory. Cowboy's been going down the racetrack getting strong, and I was hoping he'd do that again today' and sure enough when we got halfway down the track, he just gave me another gear."
Winning trainer Blane Wood said, "It's stuff you dream about. I have to give credit to my family and crew. It's a team deal. Everybody supports us. You have to applaud them, as well; it ain't just about me. We have some good owners. They believe in you and let you do what you do." He added, "When you have a fast horse, it's easy."
For owner Tommy of Paragon Farms LLC, it was the second Texas Classic Futurity win. He won this race with High Plains Perry in 2016. "It's unbelievable to win one of these races, let alone two in three years," he said. "I got to thank Blane and Trey Wood, and Sandy, and Ricky, of course, and all the guys that work with us. They did a great job. I'm fortunate I have a trainer that can pick great horses. If he keeps calm, we're going to let him go to Ruidoso."
Those who wagered on the winner were returned $8.20, 5.20 and $3.40. The longshot Eagles Fly Higher that was up for place returned $23.80 and $9.40. Danjer, the favorite in the wagering, returned $3.00 for show tickets. Long Wagon Ho, who had the lead briefly in mid-stretch, finished fourth, followed by Wushocker, Apocalyptical Jess, Jess Master Angel, Fm Im a Zanataz Too, Tdz a Fast Player and Shockingly in last.
Final time for the 400-yard Futurity was :19.692 over a fast track, good for a speed index of 97. The winner's share of the $ million+ purse was $451,523, boosting Flying Cowboys 123's career earnings to $644,423. This was his fourth win from six lifetime starts.
Meet leaders
The jockey's race came down to the final day, with Jessie Levario scoring his first Lone Star Park riding title. Levario won 18 of 60 starts during the 16-date season.
Trainer Josue Ponce took the lead in the standings October 5 and kept the top spot through the final day of racing to claim his first Lone Star Park training title. Ponce's 57 starters won a total of 17 races.
J. Fabian Hernandez was a first-time title winner in the owner's category. He finished the meet with four wins from 17 starters.
Horse of the Meet was awarded to Stormy Fisher's Sf Hot Pass. Trained by Leon Bard, Sf Hot Pass was only one of two horses finishing the season with a perfect three-for-three record, but the only to win three stakes. He won the Nevill Stakes, Refrigerator Stakes (G1) and the B. F. Phillips, Jr. (RG3) stakes.