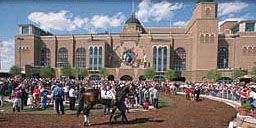 The Grade 1, $1 Million+ Texas Classic Futurity & Grade 1, $376,810 Texas Classic Derby Headline Lone Star Park's Closing Night Card
(Grand Prairie, Texas - Thursday, November 8, 2018) - Closing night Saturday, November, 10 is going to be huge! Not only will it feature the richest horse race in Texas, the $1,014,657 Texas Classic Futurity(G1), the closing night 12-race card also features the $376,810 Texas Classic Derby (G1) and the $53,403 Texas Classic Juvenile Stakes. The gates open at 5:00 p.m. and the first race post-time is 6:05 p.m.
Nationally-known Quarter Horse racing analyst Martha Claussen will be here Saturday, as well, to share her expert knowledge of the sport and offer in-depth analysis of the races. Claussen will join Lone Star Park track handicapper Rick Lee for a pre-race seminar covering the entire Saturday race card. The seminar will begin at 5:00 p.m. on the first level of the Grandstand. Be sure to join these experts to get their insight on the night's races.
Texas Classic Futurity
The $1,014,657 Texas Classic Futurity (G1) is the featured 11th race. A field of 10 horses was chosen out of a total of 137 hopefuls in trials three weeks ago. The 10 fastest from those trials make up the field competing for a share of the $1 million+ purse.
The morning line favorite at 8-5 is fastest qualifier Flying Cowboy 123. He is a half-brother to 2011 World Champion Quarter Horse and winner of the Texas Classic Derby that year, Cold Cash 123. Owned by Paragon Farms LLC of Conroe, Texas and trained by Blane Wood, Flying Cowboy 123 is one of two in the race sired by Apollitical Jess. The other is the morning line second choice at 9-5, Apocalyptical Jess.
Apocalyptical Jess is owned by Bill T. Robbins of San Jose, California and is also trained by Blane Wood. Apocalyptical Jess won the $3 million All American Futurity (G1) in September. Lone Star Park's all-time leading Quarter Horse jockey Rickey Ramirez was aboard both Flying Cowboy 123 and Apocalyptical Jess for their trial race wins. He has chosen to ride Flying Cowboy 123 Saturday. Raul Ramirez, Jr. will have the mount on Apocalyptical Jess.
Danjer, at morning line odds of 10-1, should not be overlooked. He has won his last four races by margins of no less than 1 1/2 lengths including, the All American Juvenile in September. The gelded son of Fdd Dynasty is owned by the partnership of Dean R. Frey, who also trains the horse; Downtime Enterprises LLC; and Billy G. Smith of Rancho Mirage, California. He will be ridden by Cody Jensen.
Second fastest qualifier Tdz a Fast Player is 8-1 in the morning line. The gelding by Tempting Dash is owned by Tony Doughtie of Huntsville, Texas and trained by Toby Keeton. Agustin Silva will have the mount.
The field from the rail out in the Texas Classic Futurity is:
Eagles Fly Higher (Rodrigo Vallejo, 20-1)
Shockinglyfamous (G. R. Carter, Jr., 20-1)
Jess Master Angel (Jose Beltran, 10-1)
Flying Cowboy 123 (Ricky Ramirez, 8-5)
Long Wagon Ho (Alfredo Triana, Jr., 12-1)
Apocalyptical Jess (Rail Ramirez, Jr., 9-5)
Tdz a Fast Player (Agustin Silva, 8-1)
Fm Im a Zantaz Too (Manuel Gutierrez, 12-1)
Danjer (Cody Jensen, 10-1)
Wushocker (Mario Delgado, 30-1)
Post time for the 400-yard Futurity is 10:25 p.m. It is scheduled 11th race.
Texas Classic Derby
The morning line favorite in the $376,810 Texas Classic Derby (G1) at 2-1 is Hotstepper. He is trained by Sleepy Gilbreath and owned by the partnership of Johnny Cope, R. D. Hubbard, Rafter W Stables and Henry Southway of Tularosa, New Mexico. The All American Derby winner was able to qualify off of a third place finish in his trial three weeks ago with a fast enough time. Serendipty Rocks and Intense Fire were the two horses that finished first and second in that trial. Can Hotstepper beat them this time? Saturday will tell. Regular rider Cody Jensen will be aboard again for this. The above mentioned trial also produced another qualifier, Dash for Stone, who finished fourth with a quick enough finish time to get in.
The Texas Classic Derby will run as the scheduled 10th race at 440-yards. Post time is 9:59 p.m.
The field in the derby from the rail out is:
Hotstepper (Cody Jensen, 2-1)
Intense Fire (Omar Reyes, 15-1)
Dash for Stone (Jorge Linares, 30-1)
Another Shot (Ricky Ramirez, 12-1)
This Is a Deal Too (Francisco Calderon, 15-1)
Hes Limitless (Agustin Silva, 7-2)
Df Aj Green Leaves (Rodrigo Vallejo, 15-1)
Three Bar Cartel (Jesse Levario, 10-1)
Serendipity Rocks (Noe Villatoro, 10-1)
Curls Happy Wagon (Jorge Torres, 4-1)
Texas Classic Juvenile Stakes
The 17th running of the $53,403 Texas Classic Juvenile Stakes is for the second fastest 10 that competed in the trials. The morning line favorite at 8-5 is Jess Leaving Fast. Having the 11th fastest time from the trails excluded him from competing in the Futurity, but put him as the fastest in this group. The son of Heza Fast Dash is owned by Double H Racing Investments LLC and trained by Santiago Riojas, Jr. He will be ridden by Jose Amador Alvarez.
The richest earner in the juvenile field is Dak. The gelding by Dominyun was pinched at the start in his trial, which is perhaps why he didn't make the Futurity. Dak won the TQHA Sale Futurity (G3) at Retama Park in July. He is owned by Blue Star Racing and trained by Leon Bard. Francisco Calderon will be aboard for this.
The field for the Texas Classic Juvenile Stakes is:
Texaslittlebro (Nestor Duran, 15-1)
All Sophia Wanted (Sergio Becerra, Jr., 10-1)
Senator Ryno (G. R. Carter, Jr., 12-1)
Five Bar Stoli (Cody Jensen, 5-1)
The Grand Legend (Omar Reyes, 15-1)
Jess Leaving Fast (Jose Amador Alvarez, 8-5)
The Fish Cartel (Mario Delgado, 6-1)
Sera Jess Fine V (Agustin Silva, 9-2)
Slying Schott (Jesse Levario, 20-1)
Dak (Francisco Calderon, 15-1)
The juvenile will be run at 400 yards. It's the scheduled 9th race with post time at 9:33 p.m.