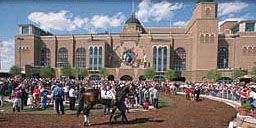 Multiple Grade 1 Winner Quick Sand AA Likely to Continue His Perfect Record in Friday's Arabian Stallion Stakes at Lone Star Park
(Grand Prairie, Texas - Wednesday, November 7, 2018) - Since settling for a third place finish here in last year's Arabian Stallion Stakes (G3), Quick Sand AA has been unbeatable. Will he continue the streak? Find out this Friday, November 9. The five-year-old Arabian stallion by Burning Sand is entered in the featured $20,000 Crystal & Company Arabian Stallion Stakes (G3) for Arabians, three years old & up going one mile. The stake is the third on the 12-race schedule, with a post-time of 6:57 p.m. Gates open at 5:00 p.m. First race post time is 6:05 p.m.
For his breeders and owners, Betty & Joseph Gillis of Columbus, Mississippi, the phrase "better with age" certainly does apply to Quick Sand AA. In this year, his best yet, he hasn't lost a race. In fact, he's a perfect five-for-five. Four of those five wins were grade 1 events. Of his career earnings of $260,231, $173,340 was won this year. His most recent start was a nine-length romp in the $100,000 President of the United Arab Emirates Cup Stakes (G1) at Churchill Downs. Jockey Sasha Risenhoover, who was aboard for that win, won't be able to make the trip this Friday but said, "He'll win that for fun. All the jock [Rodolfo Guerra] will have to do is hang on."
Not only does the race look like it's straight in for trainer Jerenesto Torrez with Quick Sand AA at 3-5 morning line odds, but Torrez has two others from his stable in the race, Easter Man at 4-1 and Tiffany's Dream at 8-1.
Here is the field for the 8th edition of the $20,000 Crystal & Company Arabian Stallion Stakes (G3) with jockey and morning line odds:
Easter Man (Ernesto Valdez-Jiminez, 4-1)
Uptown Sandy Girl (Jose Garcia, 9-2)
Quick Sand AA (Rodolfo Guerra, 3-5)
Dbon Temp Rouler (Cathleen Garner, 20-1)
Tiffany's Dream (Francisco Calderon, 8-1)
Fleet De Sand (Francisco Mendez, 30-1)
Around the track
The award for "Horse of the Meet" was decided last Saturday and will go to outstanding individual Sf Hot Pass for winning three stakes events this season. The five-year-old gelding by Ivory James won the Nevill Stakes, the Refrigerator Stakes (G1), and the B. F. Phillips, Jr. Stakes (G3). Sf Hot Pass is trained by Leon Bard and owned by Shannon Fisher of Midland, Texas. He was ridden to all three victories by Francisco Calderon. Congratulations to all of his connections.
Season Standings
The jockey and trainer races are tight with only two live racing days remaining. Jessie Levario is in the lead among jockeys with 15 wins over Francisco Calderon, who has 13. Alejandro Zuniga is right behind in third with 12 wins.
Josue Ponce has the lead in the trainer category with 14 wins over Leon Bard, with 12. In third place with seven wins is Blane Wood.
The leading owner is the tightest of the races. J. Fabian Hernandez in on top currently with four wins, but there are five owners tied with three wins each in second place. Stay tuned to see how it plays out.