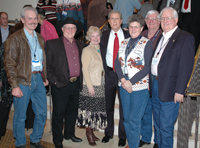 Oregon HBPA contingent with "the President"
THP-Hosted National HBPA Convention in San Antonio a Big Success
The Texas Horsemen's Partnership (THP) was proud to host the National Horsemen's Benevolent and Protective Association's 2005 winter convention in San Antonio from January 15 through 18. The attendees were treated to a combination of productive meetings and great entertainment.
In addition to furthering the National HBPA positions on simulcasting, offshore hubs, uniform medication issues, and enhanced security issues at racetracks, the delegates were treated to a special guest at the dinner gala on Monday night. The audience was surprised when they saw President George W. Bush enter the room to address the horsemen. After a closer look - and upon hearing his comical remarks - they quickly realized that it was not the president, but rather a ringer named Steve Bridges. Bridges, who regularly appears on "The Tonight Show" with Jay Leno, entertained the crowd for over an hour with his particular brand of humor and timely political remarks.
Texas was well represented in this event. Chris Lincoln emceed the gala, which also featured two video segments. One segment was a beautiful memorial tribute to our beloved Jo Ann Weber, the late executive director of the Texas Horse Racing Hall of Fame. The second video highlighted the achievements of the Texas racing industry in 2004, including hosting the Breeders' Cup World Thoroughbred Championships at Lone Star Park at Grand Prairie and the MBNA America Challenge Championships at Sam Houston Race Park. Many of the attendees left the meeting stating that it was the best convention that they have ever attended.