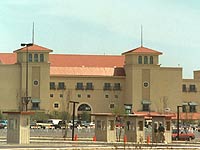 Grand Prairie Resident Wins NTRA/Daily Racing Form Contest Qualifier at Retama Park
Dennis Tiernan from Grand Prairie, Texas, was well rewarded for making the trip down to San Antonio when he won the NTRA/Daily Racing Form Qualifier Contest at Retama Park on the evening of Saturday, August 24. One hundred handicappers from all over the country converged on the track hoping to win a share of the $11,000 pot, but Tiernan bested them all, taking home the first prize of $6,000 and an expense-paid trip to the National Finals in Las Vegas next January.
Tiernan's winning total of $163.80 narrowly beat second place finisher and San Antonio resident Leslie Harris, who finished the tournament with $162.20. As the second-place finisher, Harris took home $3,000 and will also be traveling to Las Vegas as part of Retama Park's team in the Finals. San Antonio residents rounded out the top four sports with Kenny Lim finishing third and picking up a $1,500 check and Inken Willis placing fourth and collecting $500.
Although only 35 years old, Dennis Tiernan has been handicapping horses since he was 15. He learned the game early, starting with Quarter Horses and Arabians and working his way up to Thoroughbreds. His father, a pari-mutuel clerk at Bay Meadows in California, introduced him to the sport, and the protégé learned quickly, hitting his first Pick Six when he was just 17. A professional handicapper since 1993, Tiernan focuses on night racing and, in fact, chose to come to the contest specifically because Retama Park was using it's live card as part of the contest. Two key races in Tiernan's victory were the second and the eighth races at Retama. Bustic won the second, paying $49.00, and Dand'or won the eighth, paying $66.20. Tiernan had been following both horses closely and felt his familiarity with Texas racing and the local horses gave him the edge he needed to win the tournament.
Retama Park will host its second and final NTRA/Daily Racing Form Qualifier Contest on Saturday, September 21. Prize money will be distributed to the first four finishers, with the top two winning the opportunity to travel to Las Vegas as part of Retama Park's four-person team in the National Finals. For more information about the upcoming contest, please call Retama Park's Marketing department at (210) 651-7053 or go online at www.retamapark.com.