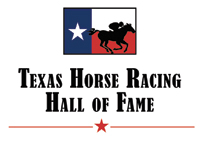 Texas Horse Racing Hall of Fame Gala to be held on October 4, 2008
The Texas Horse Racing Hall of Fame will once again honor those that have enriched the tradition of horse racing in Texas at the 10th annual Texas Horse Racing Hall of Fame Gala on Saturday, October 4. The gala and induction of Hall of Fame honorees will be held before and during the races on that Saturday, beginning at 4:00 p.m. The gala includes valet parking, cocktails, a gourmet buffet dinner, wine tasting, induction of the honorees, silent auction and, of course, live races. October 4 is the biggest night of Retama Park's Thoroughbred racing season, with a card that includes six stakes races worth $500,000 in purse money.
The 2008 inductees include racing legends Bill Allen, Bobby D. Cox, Dorothy Scharbauer (now deceased), and Joe Straus, Jr. The Joann Weber Distinguished Service Award will be presented to Mary Ruyle.
Bill Allen has been involved in the horse racing business for nearly 40 years. Over the years, he has owned many horses, ranging from claimers to top-level stakes runners. Allen organized and led Black Chip Stables, owner of Wild Again, the winner of the inaugural Breeders' Cup Classic (Gr. I) in 1984. Wild Again stunned the racing world at 32-to-1, beating the heavy favorites in a thrilling stretch duel that resulted in a photo finish and lengthy inquiry. Allen's Texas roots and racing background led him to acquire the bond originally issued to finance Retama Park in San Antonio. He then put together the management team that successfully helped Retama emerge from bankruptcy.
Bobby D. Cox began purchasing racehorses in 1976, and a couple years later, he turned a cotton field in West Texas into a first class horse facility. After creating a safe and comfortable environment to raise horses, he began purchasing stakes winners and stakes producers and bred them to the best stallions available. Over the years, Cox has owned or currently owns lifetime breeding rights in several syndicated stallions. Through May 1, 2008, Cox has been the breeder of 28 stakes winners with total earnings of $7,913,657. A few of Cox's goals in horse racing are to win both the All American Futurity (G1) and the Champion of Champions (G1).
Dorothy Turner Scharbauer, who passed away in 2005, was the co-owner of the 1987 Kentucky Derby (Gr. I) winner Alysheba, that became the all-time leading Thoroughbred earner and was later inducted into the National Horse Racing Hall of Fame. Dorothy was co-owner of Valor Farm in Pilot Point, Texas with her husband, Clarence Scharbauer. A lifelong Midland County resident, she and Clarence were known for their financial and personal contributions, especially to the Museum of the Southwest and Midland College. The college named its student center the Dorothy and Clarence Scharbauer, Jr. Student Center in May 1995.
Joe Straus, Jr., a breeder and owner of Thoroughbred horses, is the founder of the Texas Horse Racing Association and was one of the leaders in the passage of pari-mutuel racing in Texas. He is chairman of Retama Entertainment Group in San Antonio, the management company of Retama Park Racetrack. He is co-founder of Retama Park Racetrack and partner in Straus and Novak racing stable. Straus served on the Texas A&M Target 2000 committee and spearheaded efforts for the Texas Veterinary Diagnostic Laboratory to serve as the lead agency to test competition racehorses. In 2006, Joe and his brother, David J. Straus, were presented with the 2006 Freeman Award by the Greater San Antonio Chamber of Commerce for their excellence and contributions to agribusiness.
The Joann Weber Distinguished Service Award goes to Mary Ruyle. She was first hired as a bookkeeper in 1988 for the Texas Thoroughbred Association (TTA) and ascended the ranks as membership coordinator, accreditation manager, and office manager. Serving TTA for 20 years, she is presently the association's business manager.
Tickets are $125 per person. Generous sponsorship packages are available. For more information, please contact Sharolyn Grammer at (210) 651-7000 or retama@flash.net. All proceeds from the gala will benefit the Texas Horse Racing Hall of Fame, a 501(c)(3) non-profit organization.