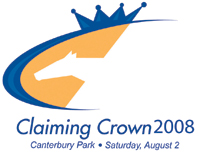 TVG to Provide Exclusive Live Coverage of 10th Annual Claiming Crown at Canterbury Park
TVG will provide exclusive live coverage of the 2008 Claiming Crown when the 10th annual renewal of the $600,000 event, saluting North America's top claiming horses, returns to Canterbury Park in Shakopee, Minninnesota, on August 2.
TVG hosts Matt Carothers and Ken Rudulph will be on site at Canterbury Park, anchoring day-long coverage of Claiming Crown races and festivities. TVG's popular ":58 Flat" program, airing live from 3:00-4:00 p.m. (ET), will also originate from Canterbury Park on August 2. In addition, TVG will offer promotional spots and other pre-event coverage of Claiming Crown during the week leading up to the event.
"We are delighted to have TVG back in 2008 as the exclusive television provider of Claiming Crown," said Claiming Crown Chairman Dan Metzger. "TVG brings a level of incremental exposure to the day that adds considerably to the success of the event, and helps grow it even further."
"Claiming Crown is the single, biggest day on our racing calendar, and we are pleased that TVG will be on hand to do its usual first-rate job of showcasing it to a national audience," said Randy Sampson, President of Canterbury Park. "Matt Carothers is a Minneapolis native who started his horse racing career at Canterbury Park in 1994, and our fans are always excited to see Matt return here with his TVG colleagues."
"We always look forward to bringing our viewers live coverage from vibrant racing venues around the country, and the enthusiasm that is so synonymous with Claiming Crown makes for an exciting and fun telecast that our audience enjoys very much," said Tony Allevato, Senior Vice President and Executive Producer of TVG. "Canterbury Park is a great track, and we are excited to be part of what we think will be the best Claiming Crown yet."
Claiming Crown features seven races, with purses ranging from $50,000 to $150,000 and is open to horses that have started at least once in 2007-08 for claiming prices ranging from $7,500 to $35,000. The day's featured event is the Jewel, a mile and one-eighth event on the main track with a purse of $150,000. Also on the program are two mile-and-one-sixteenth races on the turf, three six-furlong dashes on the dirt and a mile and one-sixteenth main track contest. This year's event will mark the eighth time that Canterbury Park has hosted Claiming Crown. Race sponsors for 2008 include Bremer Bank, John Deere, Daily Racing Form and Allied Waste Services. For more information and race histories, please visit www.claimingcrown.com.