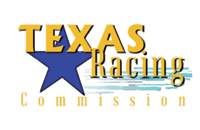 Historical Racing Rules, Future Race Dates on Texas Racing Commission Meeting Agenda for Friday, August 29
(Austin, Texas - Wednesday, August 27, 2014) - The Texas Racing Commission (TxRC) has placed rules for historical racing, as well as future race dates in Texas, on the agenda for the agency's meeting scheduled for Friday, August 29.
The meeting, which will take place at 10:30 a.m. on August 29, will be held at the John H. Reagan Building in Austin. To see the meeting agenda, click here.