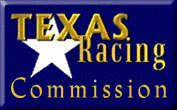 Next Texas Racing Commission Meeting Moved to Wednesday, August 31
The Texas Racing Commission (TRC) announced on July 19 that its next meeting will be held on Wednesday, August 31. The meeting had originally been scheduled for Tuesday, August 16 but was rescheduled by TRC Chairman R. Dyke Rogers.
The agenda for the August 31 TRC meeting will be available online at the TRC website no later than Thursday, August 25. The agenda is expected to include allotment of 2006 race dates for the Texas racetracks.