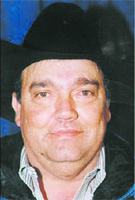 Longtime Texas Trainer Tommie Morgan Passes Away
Longtime trainer Tommie Morgan, 62, who trained in Texas and Louisiana for more than three decades, died Monday evening, March 16th, in Fort Worth, Texas after a lengthy illness.
Morgan, who trained two Kentucky Derby horses – Music Leader (1982) and Encolure (1985), regularly ran horses at Lone Star Park, Sam Houston Race Park and Retama Park in Texas. Other notable horses trained by the Cameron, Texas native were Triple Sec and Mastery's Gamble.
Morgan is survived by his wife Jackie, his son Tommie Morgan II and his wife Amanda, three grandchildren – Taylor, Jacklyn and Cooper -- plus his mother Ruth Morgan and sister Hannah Pounders.
The visitation will be held on Friday, March 20 from 6:00 to 8:00 p.m. at the Phillips and Luckey Funeral Home located at 1041 West U.S. Highway 79 in Rockdale, Texas. The funeral service is scheduled for 2:00 p.m. on Saturday, March 21.