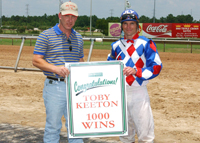 -photo by Coady Photography
Trainer Toby Keeton Celebrates his 1,000th Win on July 10 at Sam Houston Race Park
American Quarter Horse trainer Toby Keeton reached a career milestone on Sunday, July 10 at Sam Houston Race Park. The 41-year-old conditioner won his 1,000th race saddling Ro Anns Money in the second race on the card. With jockey Jerry Lee Yoakum beside him, he posed for a photo with a sign commemorating the event.
"I never really even thought about it, but it sure feels good," said Keeton. "No, I've been pretty blessed and have a lot of good memories, but can't pinpoint just one top highlight. I sure miss Nick (rider Nicky Wilson, who retired last year), but he couldn't be here today."
Keeton won his first race in 1981 and has racked up wins at Sam Houston Race Park, Retama Park, Lone Star Park, Bandera Downs and Remington Park. He is second in the all-time trainer standings at Sam Houston Race Park with 241wins. The late Steve Van Bebber still is the leading trainer overall with 280 victories.