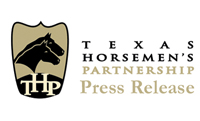 All Licensed Texas Horsemen Strongly Urged to Attend Meetings Regarding Texas' 2011 Race Dates at Lone Star or Sam Houston
(Austin, Texas - June 22, 2010) - Meetings will be held at Lone Star Park on July 1 and Sam Houston Race Park on July 2 during which the Texas racetracks will present a proposal to horsemen concerning 2011 race dates. All licensed horsemen are urged to attend the meeting that is most convenient to their location.
At 11:00 a.m. on Thursday, July 1st in the Sales Pavilion at Lone Star Park, there will be a meeting for licensed Texas horsemen to hear a proposal by the Texas racetracks concerning 2011 race dates. Following the presentation, there will be an opportunity for horsemen to ask questions and voice their concerns and opinions regarding the proposal. A current Texas Racing Commission license will be required for admittance.

On Friday, July 2nd, a meeting will be held at 11:00 a.m. at Sam Houston Race Park for the same purpose. The meeting will be held on the suites level in the grandstand building.