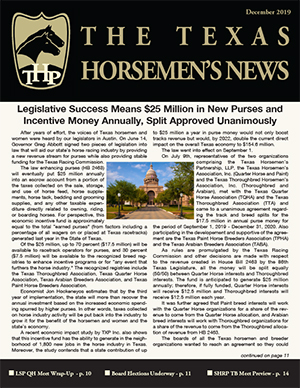 The December Issue of The Texas Horsemen's News is Out
(Austin, Texas - Monday, December 9, 2019) - On December 9, the December 2019 issue of The Texas Horsemen's News, the official publication of the Texas Horsemen's Partnership (THP), was distributed electronically to the THP's email list. If you are not already on the THP mailing list, be sure to sign up today. Shortly after signing up, you will receive an email with a link showing where you can download your copy of the December issue.
To sign up, either click the link on the homepage of this website or click here.
The electronic version of The Texas Horsemen's News was distributed via email in PDF format, which can easily be printed if you prefer to read your news in a printed format. If you do not already have a PDF reader, you can download the free Adobe Acrobat reader here.