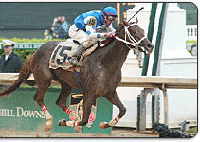 photo by Coady Photography
Smarty Jones Photos Available Online
Smarty Jones fever is taking the country by storm, and now Coady Photography has made it easy to buy photos of this potential Triple Crown winner and support the Texas Horsemen's Assistance Fund (THAFI).
Jeff and Jack Coady have created a website, www.coadyphoto.com, and set up a booth at Lone Star Park at Grand Prairie to sell pictures of Smarty Jones' winning numerous races, including the Kentucky Derby and the Preakness Stakes. In a gesture of their generosity and support of Texas racing, Coady Photography has agreed to donate a portion of their proceeds to the Texas Horsemen's Assistance Fund, Inc (THAFI). This is a fund that is for the benefit of needy horsemen racing in Texas. Last year alone, THAFI paid out more that $350,000 in assistance to horsemen for things such as medical and dental needs, eyeglasses and prescriptions.
Coady Photography has been given permission by the Chapmans, the owners of Smarty Jones, to photograph and market this line of pictures. In addition to the wonderful shots of Smarty Jones on the Triple Crown trail, there are pictures of him winning other races and going through his training exercises.
"We are very grateful that the Coady's have committed to support our organization and the wonderful work that our assistance does for our horsemen," stated Tommy J. Azopardi, Executive Director of the Texas Horsemen's Partnership.