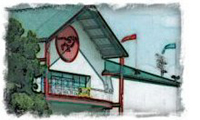 Sam Houston's 2006 American Quarter Horse Meeting Concludes with Honors for Snowy Alibi, Trainer Judd Kearl, Jockey James Brooks and Owner J C Wells
Sam Houston Race Park concluded its 2006 Quarter Horse meeting on Saturday, September 9. The final weekend was highlighted by accomplishments by Snowy Alibi, who locked up Horse of the Meeting honors and trainer Judd Kearl, who won his first Sam Houston Race Park leading trainer title at the northwest Houston racetrack.
Snowy Alibi earned the admiration of racing fans and horsemen alike with his standout performances in both the $343,305 TQHA Sale Futurity on July 28 and the $316,000 Sam Houston Futurity (G1) on September 8. Trained by Janet Van Bebber for owner D. D. Lightsey of Caldwell, Texas, Snowy Alibi concluded the 2006 Sam Houston Race Park meeting with an impressive record of 4 wins from 5 starts and earnings of $284,171. His only loss of the entire season was a second-place finish in trials for the TQHA Sale Futurity, but his time of :17.961 established him as the fourth-fastest qualifier in the richest race of the meeting. With Alfonso Lujan aboard, Snowy Alibi outran his odds of 10-1 as he won his first of two major stakes. Van Bebber had high praise, not only for the talented Snowy Alibi, but the Lightseys, who agreed with her assessment at the 2005 TQHA Yearling Sale and bid on him to the tune of $38,000. Snowy Alibi, bred in Texas by Narcisco Flores, was a son of AQHA Champion, This Snow Is Royal, who sadly died last week at the age of 11 as a result of complications from laminitis.
"What a blessing he has been," said Van Bebber following Snowy Alibi's victory in the Sam Houston Futurity. "I said it before and it is worth repeating: the Lightseys have given me carte blanche to completely manage these horses. We brought this horse last year and he needed surgery following the yearling sale. That would have set a lot of people back and given them a bad taste in their mouth, but I assured that everything would be okay; we just needed to be patient. They have been 110% patient. We waited to start the colt; we gave him the time he required, both physically and mentally and it's paid off. I feel so fortunate that we've had this success with him. It rewards their support of the decisions that we make as a team."
Leading Trainer honors went to Judd Kearl, who earned his first training title at a Class 1 racetrack. He was second in the standings in 2005, but came to Houston with a full barn, winning 30 races and bankrolling $225,845. His highlights included stakes wins by Shake Em Fever in the $45,250 Barnmaster Sprint Stakes and the longshot win of Winners Award in the $15,250 TQHA Sires' Cup Stakes. It marked a changing of the guard for the 31-year-old conditioner, as this was the first time since Sam Houston Race Park opened in 1994 that someone other than a Van Bebber had won the title. The late Steve Van Bebber locked up the leading training honors from 1994 - 2000 and his wife, Janet Van Bebber, continued the legacy from 2001-2005.
"I just want to thank all my owners and my crew," said Kearl. "My plans are to gear up for Lone Star and return to Sam Houston Race Park next summer."
Van Bebber had an excellent meeting and despite finishing second to Kearl in winners with 24 victories, her wins in both the TQHA Sale Futurity and Sam Houston Futurity vaulted her to the top of the earnings with a total of $484,962.
James Brooks, once again, defied his age and won his second consecutive leading rider title. The 55-year-old jockey won the title here last summer, which was just his second title after winning leading rider honors in 1973 at Les Bois Downs. This summer at Sam Houston Race Park, he topped his fellow riders with 52 winners, eight more than his closest rival, Rodigo Vallejo. He and trainer Judd Kearl continued to cement their solid partnership. They teamed up to win three stakes and Brooks added four more stakes races for trainers including Janet Van Bebber, Robert Touchet, Bobby Martinez and Bradley Heidelberg.
"It feels great and I appreciate my agent, Billy Stewart, Judd and all the other trainers I rode for," said Brooks. "I will head up to Lone Star, but will ride a stakes this Saturday at Blue Ribbon Downs for Monty Brooks."
Leading owner of the meet is J C Wells of Iowa Park, Texas. This was the first title for Wells, who broke a four-way tie with fellow owners, D D Lightsey, Warner Croft and Joe Kirk Fulton on the final night of the meeting. He won the second race of the September 9th card with Abominable, his seventh winner of the meet. Judd Kearl trains the majority of Wells' horses including Streak Foe Me and Streakin Lt, who captured the Harrisburg Stakes on August 18.
Live Thoroughbred racing will return to Sam Houston Race Park on Friday, November 17, 2006. The northwest Houston racetrack will host Texas Champions Day, one of the premier days of racing featuring seven stakes races, on Saturday, December 2, 2006.