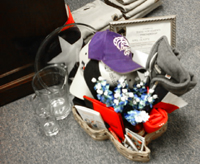 O'Hara Presents South African Counsel General with Gift Basket on Behalf of Racing Industry
The Groom Elite Program recently expanded its reach to South Africa upon the invitation of April Glaspie, the United States Consul General at Cape Town, South Africa. Representing the racing industry, Groom Elite Program Administrator and Texas Thoroughbred HBPA Vice President Susan O'Hara presented Glaspie with a basket filled with donated gifts from the Texas Horsemen's Partnership (THP), as well as a number of Texas and national racing organizations.
The THP contributed several items with THP logos on them (basketball, koozie, etc.) and a few items representing Texas, such as Dead Heat Hot Sauce, a Texas Rubik's Cube, silk bluebonnets, Texas wildflower seeds, a small Texas flag, a Texas flag bandana, a Texas dictionary, a Texas cookbook (prepared by THP staff), and a certificate thanking Ms. Glaspie for allowing the Groom Elite Program the opportunity to enhance horse racing education in South Africa.
On behalf of both the Texas Horsemen's Benevolent and Protective Association (THBPA) and the Texas Thoroughbred HBPA, Inc. (TTHBPA), the Cape Town, South Africa, Groom Elite Program was presented with learning models of both a leg and hoof. The program was also presented with THP T-shirts for the program's students.
When the THP asked for industry donations, the response was overwhelming. The following donations were received:
American Quarter Horse Association (AQHA): a crystal pitcher, platter and four-glass set imprinted with the AQHA logo
Breeders' Cup, Ltd.: a wooden frame, a stainless steel corkscrew and bottle opener, a leather covered journal, and a purple baseball hat, each with the Breeders' Cup logo on them
National HBPA: a one-year subscription to The Horsemen's Journal, a letter of appreciation
National Thoroughbred Racing Association (NTRA): a Breeders' Cup jacket, a white Go Baby Go visor, a navy blue NTRA baseball cap, a black Breeders' Cup baseball cap, and a Breeders' Cup bookmark
Texas Quarter Horse Association (TQHA): a silver business card holder, a blue thermal cup, a red journal, a tan cotton cap, a magnetic dry erase board and pen, a red koozie and a red pen, all imprinted with the TQHA logo
Texas Thoroughbred Association (TTA): a gray fleece jacket, a racehorse mouse pad, and a soft navy blue visor, all sporting the TTA logo
The THP, along with the Groom Elite Program, would like to acknowledge all of the organizations that generously provided gifts for the basket on behalf of all American racing programs. The THP has sincerely enjoyed working with these organizations in the past and looks forward to even more continued success in the future.