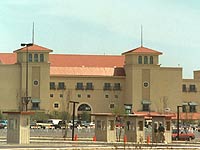 Important Information for Horsemen Currently Stabled at Retama Park
Horsemen with horses currently stabled at Retama Park need to be aware of the following important information from the track:
Foal Papers will not be released unless accounts have been cleared with the racing office and the horsemen's bookkeeper! NO CLEAREANCE - NO RELEASE!
Zero Preference date for Sam Houston Race Park is Monday, October 24. Horsemen are responsible for picking up their papers or making arrangements to get papers to Sam Houston. There will be no one available from Retama Park or Sam Houston to take foal papers for you!
Silks need to be picked up by the end of the meet. SILKS WILL NOT BE MAILED!
.