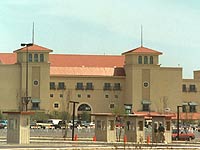 Retama Park Kicks Off 2007 Thoroughbred Meet on Friday, September 7
Retama Park kicks off its 2007 Thoroughbreds meet at 6:45 p.m. on Friday night, September 7. Saturday night, September 8, is the first Fifty Cent Saturday of the 32-night meet.
Perennial leading trainer Danny Pish is back with a full barn of 60 horses and is locked, loaded and ready to fire away Friday to defend his title. Pish entered horses in races 1, 6, 7, 8, and 9. The eighth race is an excellent allowance heat for older horses at 5 ½ furlongs on he main track. Pish's entry in the feature race is Uncle Rose, who appears overmatched based on his past performances and has been on the bench since February. However, Retama fans know that dismissing Pish anytime can lead to tearing up losing mutual tickets.
When Retama Park kicks off its 13th live racing season, horseplayers' anticipation of bigger payoffs will be on their minds when the ten-race card gets underway on Friday evening. Seven of the ten races have full fields of 12 horses, and larger field sizes mean wagering dollars are spread around over more horses, and winning mutuel tickets are likely to return bigger payoffs.
One of the highlights of the meet will be Texas Horse Racing Hall of Fame night on Saturday, October 13. In addition to a gala that will include the induction of this year's new members into the Hall of Fame, Retama will conduct six stakes races worth a total of $485,000 in purses.
Racing will be conducted on Thursdays, Fridays, and Saturdays through Saturday, November 17. First post will be at 6:45 p.m. each night of live racing with the exceptions of Friday, October 26 and Saturday, October 27. Post time on those two nights will be 5:00 p.m., immediately following the simulcast of the Breeders' Cup World Championships from Monmouth Park in New Jersey.