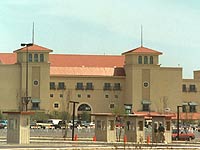 Retama Park Granted 2007 Thoroughbred Meet by Texas Racing Commission
At the Texas Racing Commission (TRC) meeting on Monday, May 14, the commission granted Retama Park a 2007 Thoroughbred meet. The 32-day meet will run from September 7 through November 17. Live racing will be conducted on Thursdays, Fridays and Saturdays, and daily purses for the meet are expected to be around $100,000, which represents a 20% increase over 2006 purse levels.
In late 2006, Retama was awarded 12 Thoroughbred dates for 2007, which were then transferred to be run at Sam Houston Race Park, along with $500,000 in purse money. This would have allowed Retama to accrue purse money throughout 2007 in order to run a January through March Thoroughbred meet in 2008. However, Sam Houston, which traditionally runs Thoroughbreds during those months, opposed those dates at the TRC meeting in March. As a result, Retama requested and was granted Thoroughbred dates this fall.
In addition to approving Retama's Thoroughbred fall meet dates, the TRC approved reversing the transfer of Retama's 12 racing dates and purse money to Sam Houston. As a result, Sam Houston's 2007/2008 Thoroughbred meet will now commence on November 23 instead of October 26.