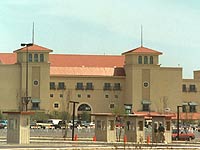 Retama Park Announces Purse Increase for 2005 Thoroughbred Meet
On May 30, officials at Retama Park in San Antonio announced a $4,000-per-day purse increase for the upcoming Thoroughbred meet. When the meet opens on August 5, purses for maiden special weight races will move from an average of $13,000 in 2004 to just over $14,000 for 2005. Purses for bottom level claiming races are scheduled to increase an average of $500 per race.
"Simulcast handle for the first five months of 2005 exceeded our expectations, so we are very happy to announce the increase in our purse structure," said Retama Park CEO Bryan Brown. "This is good for our owners and trainers. Coming off a terrific 2004 Thoroughbred meet, we expect 2005 to be a great season.".