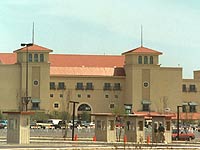 Retama Park 2010 Thoroughbred Meet Posts Significant Increase In Handle And Attendance
(Selma, Texas - October 26, 2010) - Retama Park wrapped up its 2010 live Thoroughbred meet on Saturday night, October 23, in dramatic fashion as closing night was indicative of a successful 16-day season. More than 6,000 fans put the final touch on a meet that recorded a 61% increase in average daily live on-track wagering, while average daily attendance was up 38%.

"Our decision to drop Thursday nights and run a Friday and Saturday meet turned out to be the right call," said Retama Park CEO Bryan Brown. "Fans responded with enthusiasm, and our horsemen provided an excellent product."

"Our race office, with tremendous support from our horsemen, consistently put together cards with races of 12 and 14 horses fields. In fact, we lead the industry in the number of horses per race", Brown added. Retama averaged more than 10.5 horses per race, which was ahead of Atlantic City and Evangeline Downs.

Fifty Cent Nights, Retama's family oriented promotion, were once again outstanding, with average attendance of 5,155 over eight nights.
"We cannot think of a better way to enhance wagering, have big cards and introduce horse racing to young people," said Doug Vair, Retama's Director of Marketing and Publicity, of the Fifty Cent Nights.

Karl Broberg edged perennial leader Danny Pish as the leading trainer. Broberg notched 16 wins to 15 for Pish.
Roberto Villafan was a runaway winner of leading jockey honors with 28 wins.
A three-way tie for leading owner saw Wilma Wright, Robert Morgan Evans and Florida Prime, LLC finish with four wins each.

Meet Averages 2010 2009 Change

Attendance 3,702 2,681 38%

Live Wagering 114,891 71,283 61%

Simulcast Wagering 179,234 155,130 16%

Total on track Wagering 294,125 226,413 30%

Outbound Simulcast Wagering 489,381 566,602 (14%)