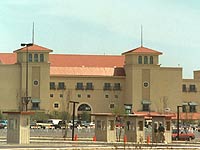 Retama Park Expands Live Racing For Remainder of 2010
(Selma, Texas - October 5, 2010) - Retama Park Racing Secretary James Leatherman took a look at the entry box on Tuesday morning, and a broad smile swept over his face. When live racing resumes on Friday for week six of Retama's 2010 meet, fans and horsemen will see another live race each night.

"It appears our decision to add another live race each night was the right one. We have full fields for all 10 races," said Leatherman. In fact, a total of 110 horses drew into the ten-race card, for an average of 11 horses in each race.

Retama Park CEO Bryan Brown looked at the track's live racing business for the first five weeks and concluded that the horsemen's purse account can fund another live race each night. It is good news for a struggling racing and breeding industry that is trying to hang on until expanded gaming allows the Texas racing industry to become competitive with surrounding states.