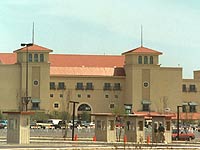 Retama Park Announces Increase In Purse Money, Increased Handle and Attendance Boost Horsemenís Account
(Selma, Texas - July 21, 2011) - Retama Park is reporting a significant increase in handle and attendance for the first three weeks of the 2011 American Quarter Horse Meeting. The result is an immediate increase in purses averaging $1,000 per race.

"We are excited that business has exceeded our projections, and horsemen will share in reaping the benefit," said Retama Park Racing Secretary James Leartherman.

Live handle, the money wagered on-track, is up 11% over 2008, the last time Retama Park conducted a live Quarter Horse meeting. Export handle, money wagered at off-track locations on Retama Park's live meet, is up a dramatic 70% compared to 2008.
Live attendance improved 32% for the same reporting period.


See the chart below for details.


Attendance 2011 2008____% Change
3,702 2,813 32%

Handle

Live 135,372 121,794 11%
Export 195,992 115,382 70%


TQHA Sale Futurity News

Leatherman announced the purse for the July 29th TQHA Sales Futurity will be $400,000.