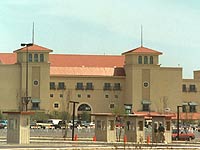 State Veterinarian to be Available at Retama Park on Tuesday Morning, June 21
(Selma, Texas - June 15, 2011) - On the morning of Tuesday, June 21, the state veterinarian will be at Retama Park starting at 9:00 a.m. to inspect horses needing to get off state vet's list. He will be available to do this for racing horses of all breeds that need to be removed from the list.
For additional information, contact Bill Kent in Retama Park Race Office at (210) 651-7043 or Tooter Jordan (830) 620-8679.