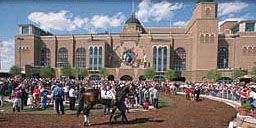 Ramirez Claims LSP Riding Crown, Dewitt Tops Owners for 7th Consecutive Year
Jockey J.R. Ramirez accomplished an amazing feat at Lone Star Park's seventh annual Fall Meeting of Champions for American Quarter Horses. In addition to winning a record 38 races en route to his first local championship, the 23-year-old clinched a rare sweep of riding titles at each Texas racetrack – Lone Star Park, Manor Downs, Retama Park and Sam Houston Race Park.
Ramirez, the younger brother of jockey Saul Ramirez Jr. and a cousin of jockey Raul Ramirez Jr., accomplished the feat in style with his record-breaking 37th win aboard Oak Tree Special in Friday's Grade 1 Texas Classic Derby. On Saturday's closing night program, he added one more to finish the meeting with 38 trips to the winner's circle -- 12 more than runner-up Randy Wilson.
In winning the Lone Star Park title, the native of Laredo, Texas, defeated a deep jockey colony filled with accomplished veterans like Roy Baldillez, Alvin "Bubba" Brossette, G.R. Carter Jr., Jacky Martin, Gilbert Ortiz, Larry Payne, Juan Vazquez, Nicky Wilson and Jerry Lee Yoakum – just to name a few.
"You couldn't ask for it to be going any better than this," Ramirez said. "I've never done as good here at Lone Star [as the other Texas tracks]. It's just awesome. I'm speechless."
The Lone Star Park championship caps a sensational year for Ramirez. Entering Saturday, he ranked third nationally in wins with 147, only behind Ramon Sanchez (150) and G.R. Carter Jr. (149).
Elsewhere, to no one's surprise, Geral Dewitt was the leading owner for an amazing seventh time in as many years.
Dewitt, who lives in Garland, Texas, with his wife Frances, is clearly Lone Star Park's kingpin owner and one of the nation's best. He won 13 races this season with his trainer and stepson Anthony Arey. In previous years, the automotive dealer snared eight, 11, a record 16, 11, 12 and 12 victories from 1997-2002 to top the standings. Overall, he has 83 Lone Star Park wins, and has claimed titles at each Texas racetrack like Ramirez. This year, he began Saturday ranked second only to Anjora Racing Corp. in national wins this year with 54.
The remaining seasonal champions will be announced Monday at noon. Oak Tree Special, winner of the Grade 1 Dash For Cash and Texas Classic Derbies, is the favorite to be named Horse of the Meeting. Other honors to be decided by media and racing officials will be Champion Older Male, Female, Distance Horse, 3-Year-Old Male, 3-Year-Old Female, 2-Year-Old Male, 2-Year-Old Female and Claiming Horse.