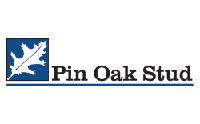 Pin Oak Stud to Sponsor Lone Star Park's USA Stakes
Lone Star Park at Grand Prairie and Pin Oak Stud of Versailles, Kentucky, have agreed terms on a three-year sponsorship deal to rename the USA Stakes to the Pin Oak Stud USA Stakes. Terms of the agreement were not disclosed.
The $200,000 Pin Oak Stud USA Stakes, a 1 1/16-mile turf race for 3-year-olds, will be run for the eighth time on Memorial Day, May 31, as part of Lone Star Park's sixth annual Lone Star Million – a seven-race stakes bonanza cumulatively worth $1 million. The remaining Lone Star Park stakes schedule for 2004 will be announced after the first of the year.
Pin Oak Stud, a successful breeding and racing operation for 50 years, is owned by native Texan Josephine Abercrombie. Stallions standing at her farm, managed by Clifford Barry, include multiple stakes winner Broken Vow ($10,000 live foal), Champion 2-Year-Old Colt Maria's Mon ($35,000), Canadian Horse of the Year Peaks and Valleys ($10,000), four-time Champion Sky Classic ($12,500) and Changeintheweather ($7,500), a new addition who is a son of Gone West. In addition, Pin Oak mares have produced more than 70 stakes winners over the years.
"As a native Texan, I am extremely proud to be associated with a first-class operation like Lone Star Park," Abercrombie said. "This is an exciting time with the Breeders' Cup on the horizon, and we look forward to working together for many years to come."
In 2003, Abercrombie won with four of 17 starters and $144,915 (ranked 13th among all owners) at Lone Star Park, including the $100,000 Valid Expectation Stakes with See How She Runs, a Donnie K. Von Hemel trainee.