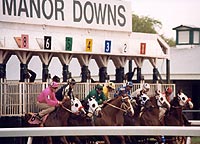 Start of Manor Downs Meet Delayed
On Thursday, February 17, Paula Flowerday, Executive Secretary of the Texas Racing Commission (TRC), announced that Manor Downs' meet has been delayed one week in order to give Manor Downs ample time to repair damage to its racing surface. The meet, originally scheduled to begin Saturday, February 26, is now scheduled to start on Saturday, March 5.
The TRC and the Texas Horsemen's Partnership will be working closely with Manor Downs over the upcoming weeks to ensure that no racing opportunities are lost. We will post additional information on this website as it becomes available.

.