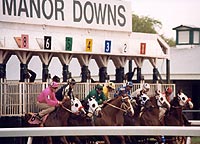 Manor Downs Stable Area Approved to Open February 9, Schooling Races Slated for February 15
The Texas Racing Commission (TRC) completed its annual preliminary racetrack walk through inspection of Manor Downs on Tuesday, February 07 at 2:00 p.m. with racing industry associations. Manor Downs was granted permission to open its stable area in order for horsemen to move their horses into allotted stalls on Thursday, February 9. Horses may begin to receive official works on Saturday, February 11, at 7:00 a.m.
In attendance at the inspection were Texas Racing Commission Director of Racing John Ferrara, Manor Downs Director of Racing and Racing Secretary Sammy Burton, Manor Downs Director of Racetrack Maintenance Allen Key, Texas Quarter Horse Association (TQHA) Director of Race Rob Werstler, TQHA Race Programs Coordinator Brande Koltiska, Texas Thoroughbred Association (TTA) Executive Director David Hooper, Texas Horsemen's Benevolent and Protective Association (THBPA) Board Member and trainer Tooter Jordan, and Texas Horsemen's Partnership (THP) Executive Assistant Wanda O'Banan.

In order to accommodate the large number of horses requiring official works for upcoming trials, Manor Downs will offer schooling races on Wednesday, February 15, with a post time of 10:00 a.m. The racing office began taking entries on Wednesday, February 8, and entries will close on Tuesday, February 14 at 12:00 p.m. On that same morning, Manor Downs will close for training at 9:00 a.m. to prepare the racing surface for the schooling races.
The schooling races will be limited to two-year-old Quarter Horses that are first time starters only. The training race fee will be $20.00 per entry.

Please be aware of the following:
Races will be run at 220 yards
A copy of the foal certificate must be on file inthe Manor Down Racing Office
You are responsible to head your own horses in the starting gate
Training race fees are to be paid prior to running in the Manor Downs Racing Office
According to Manor Downs Director of Racing and Racing Secretary Sammy Burton, all but 30 stalls have been allotted to the trainers that met stall application requirements. Theremainder will be granted after opening weekend.
Some of the stables returning to Manor Downs for the 2006 race meet will include Janet Van Bebber, Guy Hopkins, John Boegner, Bobby Martinez, Judd Kearl, Ed Hardy, Eloy Gonzalez, Steve Garrison, Brad Bolen, and Bobby Touche.