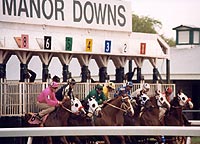 Manor Downs Increases Purses Effective April 13
Effective April 13, Manor Downs will increase its American Quarter Horse purses from $1,500-$2,000. Overnight purses of $5,500 and less will be boosted $1,500, and overnight purses of $5,600 and more will receive a $2,000 increase.
In addition, Manor Downs is increasing all Thoroughbred overnight purses by $1,500 per race on the same date.
For more information, visit Manor Downs' website at www.manordowns.com.

.