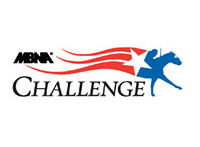 Sam Houston Race Park Awarded 2004 MBNA America® Challenge Championships
The American Quarter Horse Association announced on Thursday, September 4, that Sam Houston Race Park has been selected to host the 12th Running of the MBNA America® Challenge Championships slated for Saturday evening, November 6, 2004. The Challenge Championships will offer more than $1 million in purses and awards to the owners of the 58 horses competing in one of six championship events. American Quarter Horses qualify for the rich Challenge Championships by competing in regional races held during the year throughout North America.
"We couldn't be happier bringing this prestigious event to racing fans in Houston," said Bill Brewer, AQHA Executive Vice President. "Sam Houston Race Park has been a tremendous friend to American Quarter Horse racing and the fans have supported us enthusiastically. We are excited to bring the Challenge Championships and North America's top sprinters to Houston."
Under the normal rotation schedule, the Challenge Championships would have gone to Lone Star Park at Grand Prairie. However, because the Dallas-area track is hosting the 2004 Breeders' Cup, alternate arrangements were made. Los Alamitos, host of the 2003 Challenge Championships scheduled for Saturday, November 1, had agreed to host the event both this year and next.
However, when the new dates were approved for Texas racing, awarding Sam Houston an extended American Quarter Horse season, there was unanimous consent to bring Championship Night back to Texas.
"Sam Houston Race Park has made a commitment to supporting live Quarter Horse racing since we opened in 1994," said Bob Bork, President and General Manager. "We are thrilled to host this nationally acclaimed event and look forward an exciting night of racing featuring the top Quarter Horses in the country. "
The MBNA America Quarter Horse Racing Challenge is horseracing's richest series.
Inaugurated in 1993, today a total of 71 races take place in 10 regions across the United States, Canada and Mexico throughout the year. American Quarter Horses compete in one of six different types of races, depending on their age and ability.
The season-ending MBNA America Challenge Championships take place with a total of six championship events.
Including all regional races as well as the championships, each year the MBNA America Racing Challenge rewards some $5 million in purse and bonus awards.
Championship Day Races are:
$300,000 MBNA America Challenge Championship (Gr. I)
3-year-olds & up, 440 yards
$175,000 Bayer Legend Challenge Championship (Gr. I)
3-year-olds, 400 yards
$150,000 American Airlines Challenge Championship (Gr. I)
2-year-olds, 350-yards
$100,000 Ford Challenge Championship (Gr. I)
3-year-olds and up, fillies and mares, 400 yards
$100,000 John Deere Challenge Championship (Gr. I)
3-year-olds and up, 870 yards
$75,000 Professional's Choice Challenge Championship
3-year-olds and up, 350 yards (For horses that have started for a claiming price of $7,500 or less in the 12 months prior to entry deadline for the trials)
About MBNA America
An AQHA Corporate Partner since 1993, MBNA America is the official financial services provider of AQHA. MBNA is the world's largest independent credit card issuer. The company, which has operations throughout the United States and in Canada, Ireland, Spain, and the United Kingdom, also provides retail deposit, consumer loans and insurance products.
MBNA America offers AQHA members the Platinum Plus, Gold and Preferred MasterCard credit cards in two distinctive card designs; Racing and Classic. MBNA also proudly offers preferred CD and Money Market rates. If your are a business owner and are in need of a financial tool, MBNA offers the AQHA Platinum Plus for Business MasterCard credit card.