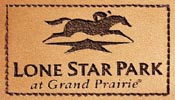 Lone Star Park On-Track Attendance, Handle Jump
Lone Star Park at Grand Prairie - home of this year's Breeders' Cup World Thoroughbred Championships - concluded its 63-date Spring Thoroughbred Season on Sunday (July 11) with gains in average daily on-track attendance and on-track handle despite enduring the second-wettest June in Dallas-Fort Worth history.
"We're extremely pleased with the results of our Spring Thoroughbred Season," said Jeff Greco, Lone Star Park's Vice-President & General Manager. "We were able to increase our business on-track even though some of our biggest events were moved to the fall and we had to overcome 12 inches of rain in June. It's truly a credit to our horsemen and the efforts of our team. The on-track increase is also a positive indicator that horse racing continues to be a valued entertainment experience in the Dallas-Fort Worth area. This sets us up perfectly for the Breeders' Cup meeting this fall."
More than 548,000 customers passed through the Lone Star Park turnstiles from April 15-July 11 for a daily average of 8,700. The figure was up 1.0% from the average of 8,600 that attended the 70-date meeting in 2003.
Spring Thoroughbred Season highlights included a strong opening weekend; a record-setting Triple Crown; post-race concerts by Willie Nelson, The Beach Boys and Cross Canadian Ragweed; the introduction of Dollar Days; and post-race fireworks on July 3-4.
On-track wagering totaled $78.4 million, and the 13-week meeting saw average daily on-track betting increase 3.9% to $1.24 million, compared to $1.20 million in 2003.
"Our on-track business has been healthy since the start of the year," Greco said. "Understandably, there has been a shift of live dollars to simulcast dollars due to increased competition in the simulcast marketplace. But the bottom line is that we were up on-track and we're in an ideal position for our fall Thoroughbred meeting. Our purse account is healthy and better than our original projections, and we have local momentum heading into an exciting summer simulcast season."
The increase in on-track dollars was largely due to record simulcast wagering, which totaled $44.3 million at the meet. The daily average for simulcast wagers skyrocketed 11.3% to an unprecedented $704,000 daily versus $632,000 in 2003. And since the start of the year, in excess of $101.6 million has been wagered at Lone Star Park on simulcasts across North America - a 7.6% gain or $7.1 million more than last year to date.
On-track betting on live racing dipped 4.5% from an average of $566,000 to $540,000 per day, while daily average off-track betting at simulcast outlets nationwide fell 9.7% from $1.96 million to $1.77 million.
For the first time in its eighth year of operation, Lone Star Park will stage a second Thoroughbred meeting in 2004. A 19-date Thoroughbred season in October (October 1-31) will replace the usual Fall Meeting of Champions for American Quarter Horses because the North Texas racetrack is hosting the 21st Breeders' Cup World Thoroughbred Championships - horse racing's foremost international event - on Saturday, October 30.
As a result, a number of stakes races and major events that traditionally appeared in the spring were moved to the fall, including three major fixtures - the Jockey Championship (known this year as the International Jockey Championship), the Walmac Lone Star Derby (Gr. III) and Stars of Texas Day (a day devoted to Texas-breds). Both the International Jockey Championship (October 28) and Walmac Lone Star Derby (October 29) will be staged during Breeders' Cup week.
"We're really looking forward to the Breeders' Cup," Greco said. "Because of our first fall season for Thoroughbreds, we're keeping our stable area and main track open between the live meetings and many of the major outfits will continue to train a total of approximately 500 horses here. And starting the first week of August, the installation of approximately 38,000 temporary seats for the Breeders' Cup will begin.
"With Smarty Jones and a hundred other of the world's best horses making plans to come to Lone Star Park this October, there's quite a buzz around here and the rest of the marketplace."
FINAL 2004 LONE STAR PARK SPRING THOROUGHBRED SEASON BUSINESS FIGURES
2004 Daily Averages (63 dates vs 70 dates in 2003)
Attendance: 8,700, +1.0% from 8,600 in 2003
On-Track, Total (Live and Simulcast): $1.24 million, +3.9% from $1.20 million in 2003
On-Track, Live Handle: $540,000, -4.5% from $566,000 in 2003
On-Track, Simulcast Handle: $704,000, +11.3% from $632,000 in 2003
Off-Track, Live Handle: $1.77 million, -9.7% from $1.96 million in 2003
Live Product Handle (On- and Off-Track, Live): $2.30 million, -8.5% from $2.52 million in 2003
Total Handle (All Sources): $3.07 million, -2.8% from $3.15 million in 2003
MISCELLANEOUS STATS
No. of Races: 613
No. of Starters: 5,685
Avg. No. of Starters: 9.3
Winning Favorites: 35.2%
No. of Claims: 308 for $3,455,000
Wins, Jockey: 87, Eddie Martin Jr.
Wins, Apprentice Jockey: 27, Amanda Crandall
Earnings, Jockey: $1,684,025, Eddie Martin Jr.
Stakes Wins, Jockey: 6, Eddie Martin Jr.
Wins, Trainer: 82, Steve Asmussen
Earnings, Trainer: $1,859,727, Steve Asmussen
Stakes Wins, Trainer: 9, Steve Asmussen
Wins, Owner: 27, Kagele Brothers Inc.
Earnings, Owner: $345,840, Tom Durant
Wins, Horse: 4, Expect Will & Kristina's Wish
Earnings, Horse: $210,250, Yessirgeneralsir.