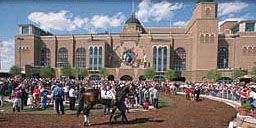 Lone Star Boasts 37-Race Stakes Schedule Worth $4.075 Million for 2005
On the heels of hosting a Texas-sized and widely successful Breeders' Cup World Thoroughbred Championships, Lone Star Park at Grand Prairie will return to a spring-only Thoroughbred meeting in 2005 with a 67-date season from April 14-July 17 that features 37 stakes races totaling $4.075 million.
"We plan to capitalize on the success we had and the relationships we built during last year's Breeders' Cup," said Lone Star Park Vice-President and General Manager Jeff Greco. "With that in mind and a well balanced and lucrative stakes schedule in place, we have the makings of an exciting 2005."
The action-packed 15-week Spring Thoroughbred Season features seven multi-stakes days and is once again highlighted by four major events that traditionally attract both local and national interest: Texas Mile Day on Saturday, April 30; Walmac Lone Star Derby Day on Saturday, May 14; Lone Star Million Day on Memorial Day, Monday, May 30; and Dallas Turf Cup Day on Saturday, June 18.
The Grade III, $300,000 Walmac Lone Star Derby, a 1 1/16-mile affair for 3-year-olds, returns to a popular position on the racing calendar - one week after the Kentucky Derby. It was staged there in 2003, the year Dynever rolled to an impressive 1 ½-length win over a dozen rivals. Last year, it was won by Pollard's Vision when conducted the day before the Breeders' Cup World Thoroughbred Championships in late October.
The seventh annual Lone Star Million will feature six lucrative stakes this year with purses totaling more than $1 million. The $150,000 Stonerside Stakes for 3-year-old fillies has been added to the special Memorial Day program that already includes the Grade III, $300,000 Lone Star Park Handicap and Grade III, $200,000 WinStar Distaff.
Four stakes will be held on Texas Mile Day, the first major event of the meeting. The last two winners of the Grade III, $300,000 Texas Mile - a one-mile, two-turn test of speed and stamina - have gone on to finish second in the Breeders' Cup Sprint: Bluesthestandard (2003) and Kela (2004). The day's program also features the $75,000 Grand Prairie Turf Challenge for 3-year-olds at one mile on turf, as well as $125,000 divisions of the Texas Stallion Stakes for 3-year-olds.
Late in the meet, Stars of Texas Day on Saturday, July 9, will feature 2-year-old divisions of the Texas Stallion Stakes, two of six stakes events that day exclusively for Texas-breds.
A dozen of the stakes events are scheduled on turf, highlighted by the $200,000 Dallas Turf Cup, a 1 1/8-mile race for older horses.
Nomination forms for the complete stakes schedule, as well as the first condition book, are now available in the Lone Star Park racing office and at lonestarpark.com. Stall applications are also available and are due Wednesday, March 9. Purses are expected to average up to $220,000 a day.
Lone Star Park's stable area will reopen for training on Monday, March 28. Reserved seats for 2005 live racing dates will go on sale Monday, March 14.
2005 THOROUGHBRED SEASON STAKES SCHEDULE (APRIL 14-JULY 17)
Thu., April 14, Premiere Stakes, 9th running, TX 3YO & Up, 1 Mile, $50,000
Sat., April 16, Irving Distaff, 9th running, F&M 3YO & Up, 7 ½ Furlongs (T), $75,000
Fri., April 22, Littlebitlively Stakes, 1st running, 3YO & Up, 5 Furlongs (T), $40,000+
Sat., April 23, Wafare Farm Stakes, 9th running, 3YO F, 6 Furlongs, $50,000
Sat., April 30, Texas Mile (Gr. III), 9th running, 3YO & Up, 1 Mile, $300,000
Sat., April 30, Grand Prairie Turf Challenge, 9th running, 3YO, 1 Mile (T), $75,000
Sat., April 30, Texas Stallion Stakes (Stymie Div.), 2nd running, 3YO C&G, 1 1/16 Miles, $125,000
Sat., April 30, Texas Stallion Stakes (Got Koko Div.), 2nd running, 3YO F, 1 1/16 Miles, $125,000
Sat., May 7, Connecting Terms Stakes, 1st running, 3YO & Up, 1 1/16 Miles (T), $40,000+
Sat., May 14, Walmac Lone Star Derby (Gr. III), 9th running, 3YO, 1 1/16 Miles, $300,000
Sat., May 14, Ford Express Stakes, 9th running, 3YO & Up, 6 Furlongs, $75,000
Sat., May 21, JEH Stallion Station Stakes, 9th running, TX F&M 3YO & Up, 6 ½ Furlongs, $50,000
Sat., May 28, Carter McGregor Jr. Memorial Stakes, 9th running, TX 3YO & Up, 6 Furlongs, $50,000
Mon., May 30, Lone Star Park Handicap (Gr. III), 9th running, 3YO & Up, 1 1/16 Miles, $300,000
Mon., May 30, WinStar Distaff (Gr. III), 9th running, F&M 3YO & Up, 1 Mile (T), $200,000
Mon., May 30, Pin Oak Stud USA Stakes, 9th running, 3YO, 1 1/16 Miles (T), $200,000
Mon., May 30, Stonerside Stakes, 4th running, 3YO F, 7 Furlongs, $150,000
Mon., May 30, Beck Auto Group Turf Sprint, 9th running, 3YO & Up, 5 Furlongs (T), $100,000
Mon., May 30, Valid Expectations Stakes, 9th running, F&M 3YO & Up, 6 Furlongs, $100,000
Sat., June 4, Anet Stakes, 1st running, 3YO, 5 ½ Furlongs, $40,000+
Sat., June 11, TTA Sales Futurity (C&G Div.), 16th running, 2YO C&G, 5 Furlongs, $150,000*
Sat., June 11, TTA Sales Futurity (F Div.), 13th running, 2YO F, 5 Furlongs, $150,000*
Fri., June 17, Gold Nugget Stakes, 1st running, TX 3YO & Up, 7 ½ Furlongs (T), $40,000+
Sat., June 18, Dallas Turf Cup, 9th running, 3YO & Up, 1 1/8 Miles (T), $200,000
Sat., June 25, Miller Lite Stakes, 9th running, F&M 3YO & Up, 5 Furlongs (T), $50,000
Fri., July 1, Fresa Stakes, 1st running, F&M 3YO & Up, 1 1/16 Miles (T), $40,000+
Sat., July 2, Alysheba Breeders' Cup Stakes, 9th running, 3YO, 6 Furlongs, $100,000
Sat., July 2, Lone Star Oaks, 9th running, 3YO F, 1 1/16 Miles (T), $100,000
Sat., July 9, Texas Stallion Stakes (Staunch Avenger Div.), 4th running, 2YO C&G, 5 ½ Furlongs, $125,000
Sat., July 9, Texas Stallion Stakes (Pan Zareta Div.), 4th running, 2YO F, 5 ½ Furlongs, $125,000
Sat., July 9, Assault Stakes, 8th running, TX 3YO & Up, 1 1/16 Miles, $125,000
Sat., July 9, Allen Bogan Memorial Stakes, 9th running, TX F&M 3YO & Up, 1 Mile, $100,000
Sat., July 9, Harold V. Goodman Memorial Stakes, 9th running, TX 3YO, 6 ½ Furlongs, $50,000
Sat., July 9, Valor Farm Stakes, 8th running, TX 3YO F, 6 Furlongs, $50,000
Sat., July 16, Middleground Breeders' Cup Stakes, 9th running, 2YO C&G, 6 Furlongs, $75,000
Sat., July 16, Silver Spur Breeders' Cup Stakes, 9th running, 2YO F, 6 Furlongs, $75,000
Sun., July 17, Bob Johnson Memorial Stakes, 9th running, 3YO & Up, 1 Mile, $75,000
+ Overnight Stakes
* Estimated Purse