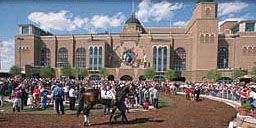 Generals to Battle in $50,000 Premiere on Opening Night at Lone Star
Yessirgeneralsir, the upset winner of last year's $300,000 Lone Star Park Handicap (Gr. III), will attempt to deny Agrivating General a record third victory in the $50,000 Premiere Stakes, the opening night feature of Lone Star Park at Grand Prairie's 67-date Spring Thoroughbred Season on Thursday, April 14.
The Premiere, as usual, will be run as the traditional first race of the season at 6:35 p.m. CT.
A field of eight older Texas-breds was entered for the ninth running of the one-mile Premiere. Yessirgeneralsir was made the 6-5 morning line favorite and Agrivating General was listed at 5-2.
Yessirgeneralsir was sensational at Lone Star last summer, finishing third in the Texas Mile and easily winning the Lone Star Park Handicap - Lone Star's two graded stakes for older horses each worth $300,000. But 'The General' hasn't started in seven months.
"We took a chip out of his left knee, and he's responded nicely," trainer Dallas Keen said. "We've had no problems and he's been training great." Lonnie Meche will have the mount.
Here's the Premiere Stakes field from the rail out:
2. Major League (Amanda Crandall/Paul Murphy, 20-1)
1. Record Assembly (Kevin Cogburn/Charles Hukill, 20-1)
3. R B J's Blaze (Jeremy Collier/Brian House, 6-1)
4. Agrivating General (Quincy Hamilton/Danny Pish, 5-2)
5. Rare Cure (Cliff Berry/Joe Petalino, 4-1)
1a. Dusty Tunnel (John Jacinto/Charles Hukill, 20-1)
6. Yessirgeneralsir (Lonnie Meche/Dallas Keen, 6-5)
7. Most Feared (Casey Lambert/Jack Bruner, 20-1)
IN OTHER OPENING NIGHT NEWS: Grandstand gates open early Thursday at 4:30 p.m....All patrons who pass through Lone Star's turnstile before 6:15 p.m. on opening night will be given an entry blank to enter the "Premiere Steaks Handicapping Contest." Those who correctly identify the Premiere Stakes winner will have a chance to win a $250 gift certificate to Bob's Steak & Chop House...Nikki Hale, who sung the National Anthem on Breeders' Cup Day at Lone Star Park, will return to sing the National Anthem and God Bless America on opening night...The party band Icehouse will perform live between races in the Courtyard of Champions between 7 p.m. and 10 p.m...Trainer Steve Asmussen will be saluted between races for his record 555 wins in 2004.
JANEIAN TO DEFEND TITLE IN IRVING DISTAFF - Janeian, the 7-year-old New Zealand-bred mare, will be back to defend her title in Saturday's $75,000 Irving Distaff, Lone Star Park's traditional local prep for the Grade III, $200,000 WinStar Distaff on Memorial Day. The 7 ½-furlong turf race for fillies and mares is expected to draw a full field including impressive Fair Grounds allowance winner Paz Ciudadana from the Steve Asmussen barn. Entries will be taken Thursday morning. Janeian flourished under trainer Bret Calhoun's care last spring and summer, winning the Irving Distaff by four lengths and finishing second to Asmussen's Academic Angel in the Grade III WinStar Distaff. She then ventured to Hollywood Park for the Grade III Royal Heroine Stakes and won that event by two lengths over the classy Katdogawn. Her five subsequent starts as the betting favorite, however, were disappointing. "You know, you start to worry about 'em when they start to get older, but she's doing really good now," Calhoun said. "She had a tough winter." Janeian flew some 1,500 miles back to California in December to race in the Grade II Dahlia Handicap at Hollywood, but the 1 1/16-mile turf race was transferred to the main track and she was scratched. "We were kind of stuck," Calhoun said. "So we ran her twice at Fair Grounds, but she didn't care for that course; it just doesn't suit her style. After those races, we shipped her to Houston and she really started to pick it up again. Her last two works (six furlongs in 1:13 3/5 on April 1 and five-eighths in 1:01 on April 8 at Sam Houston) make me feel like she's really peaking. I think she's got a few more good races in her and she really likes this course." Calhoun, who finished third in the Lone Star trainer standings win 26 wins at last year's Spring Thoroughbred Season, says Janeian might be the only stakes runner in his barn at this point. "I've got a lot of 3-year-olds with some conditions left and some maidens that look good," Calhoun said. "Our two-year-olds look talented, too, but we'll have to see how they turn out." He plans to ride a variety of jockeys this meeting, including Cliff Berry, Glen Murphy, Casey Lambert, Roman Chapa, Jeremy Beasley and 21-year-old Quincy Hamilton. "Quincy can ride," Calhoun said. "He's the most patient young rider I've ever seen around here - so patient that he sometimes drive you nuts. He really measures a race well. This meet will be a good test for him."
DOWN THE STRETCH: Thursday's opening night 10-race card lured 95 entries...There will be two 50-cent Pick 4s on the program: Races 2-5 and Races 7-10...Ten-Cent Superfectas will be available on all races with seven or more starters (all races except the sixth and ninth on Opening Night)...Trainer John Locke, who finished tied for eighth at last year's Spring Thoroughbred Season with 15 wins from 113 starters, is back with a string of 50 for this year's meeting. "I can only wish I get that lucky again," Locke said. "This is a really, really tough meet here. There are a lot of really good horses and a lot of good trainers." Locke is looking forward to starting Proven Cure, the venerable 11-year-old gelding who has won 16 of 77 career starts and $635,781. He won last weekend's $50,000 Sam Houston Turf Sprint Cup by two lengths for his third win a row. "He sure is an honest horse," Locke said. "He's going through a good spell right now...Trainer Donnie K. Von Hemel reports that dual stakes winner Crytograph, who has been resting on a farm in South Carolina for the winter, is scheduled to return to Lone Star Park sometime next week. He hasn't started since a third-place finish in the Grade III Oklahoma Derby on Nov. 21. Before that Crytograph finished second to Pollard's Vision in the Grade III Walmac Lone Star Derby on the day before the Breeders' Cup...Two of Von Hemel's top horses will start this weekend at Lone Star. On Friday night, three-time stakes winner Waupaca returns in the ninth race, a one-mile turf allowance for 4-year-olds and up which have not won a race in 2005 (other than a maiden, claiming or trial race). Meanwhile, Queena Corrina, who lost the $100,000 Bluebonnet Stakes by a nose on closing day of the Fall Breeders' Cup Meeting, will be entered in the Irving Distaff. "That loss here on closing day was the tightest photo I've ever seen," Von Hemel said. "That was a tough pill to swallow. But she's trained well since then and she's ready to go." She breezed a half-mile Thursday at Lone Star in :50 4/5...Other top horses in the Von Hemel barn include 4-year-old colt Free Thinking and 4-year-old filly Platinum Ballet. Free Thinking has won four of his last five starts - all allowance races, including two in a row at Oaklawn (the last over stakes winner Pro Prado). Platinum Ballet was a runner-up to California invader Two Trail Sioux in last weekend's $100,000 Bayakoa Stakes at Oaklawn. "They ran faster in [Sunday's] Bayakoa (1:43.61 for 1 1/16 miles) than they did in [Saturday's] Grade I Apple Blossom (1:43.86)," Von Hemel said. "She ran a big race to only get beat a length."...Lone Star Park will giveaway free Budweiser Magnetic Schedules to patrons on Saturday and Sunday while supplies last...In addition to Friday's post-race concert by Gary P. Nunn and Saturday's post-race concert by The Charlie Daniels Band, there will be live music between races all week in the Courtyard of Champions: Icehouse (Thursday, 7-10 p.m.); Zane Lewis (Friday, 7-10 p.m.); The B&G Band (Saturday, 12-4 p.m.) and Channel 15 (Sunday, 12-4 p.m.).