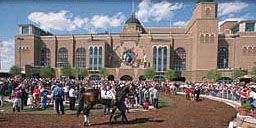 $50,000 Premiere Stakes Kicks Off Lone Star Park's Opening Week Thursday Night at 6:35 p.m.; Concerts, Easter Egg Hunt Slated for Weekend
Lone Star Park at Grand Prairie's 10th Spring Thoroughbred Season launches its much-anticipated 66-date run Thursday night at 6:35 p.m. when 11 older Texas-breds travel one mile in the traditional first race of the meeting - the $50,000 Premiere Stakes.
The Premiere is the first of 37 stakes cumulatively worth $3.8 million this season. Racing highlights include five Grade III stakes events: the $300,000 Texas Mile (April 29), $300,000 Walmac Lone Star Derby (May 13), $400,000 Lone Star Park Handicap and $200,000 WinStar Distaff (May 29) and $200,000 Dallas Turf Cup (June 17).
Agrivating General, the 7-year-old gelding who was a back-to-back winner of the Premiere in 2003-04, was installed as the 2-1 morning favorite this year. Last year, he finished third behind 15-1 longshot winner Rare Cure, who like Agriviating General, is competing in the Premiere for an amazing fourth straight year. No horses had ever competed in the Premiere more than three times - a true measure of Agrivating General (a $350,085 earner) and Rare Cure's ($512,410) durability.
Trainer Danny Pish has secured Roman Chapa to ride Agrivating General for the first time since last April. A victory by Agrivating General would be his first since June 2004. He's finished second three times and third four times in his last 14 starts, but an expected fast pace in the early stages of Thursday's race should benefit his come-from-behind style.
Here's the Premiere field from the rail out (with jockeys, trainer and morning line odds): Andanight (Omar Rodriguez, Juan Rivera, 12-1), The Frac (Bobby Walker Jr., Joe Petalino, 12-1), Bullet Crane (R Chirinos, Brent Davidson, 30-1), Senor Amigo (Glen Murphy, Steve Asmussen, 10-1), Agrivating General (Roman Chapa, Danny Pish, 2-1), Corpus Sand (Quincy Hamilton, Gerald Romero, 5-2), Rare Cure (Larry Taylor, Petalino, 6-1), Loup Longshanks (R Eramia, Bill Pettit, 8-1), Giant Bellyache (Jeremy Collier, Pettit, 8-1), Rhodif (Justin Shepherd, Jim Hudson, 20-1) and Lightsnatcher (Jamie Theriot, Cole Norman, 8-1).
A total of 97 horses were entered to run on Thursday's 10-race program.
Grandstand gates will open early at 4:30 p.m. Following jockey introductions on the main track, a presentation of the nation's colors and singing of the "National Anthem" and "God Bless America," horses will break from the starting gate at the regular weeknight post time of 6:35 p.m. CT (gates regularly open at 5 p.m.). Weekend and holiday action will begin at 1:35 p.m. CT (gates at 11:30 a.m.). After opening weekend, racing will be conducted five days a week, every Wednesday-Sunday, through May 21. After that, racing will be held four days a week, every Thursday-Sunday.
All fans that enter Lone Star Park's admission gates before 6:15 p.m. Thursday night will receive an entry blank for a chance to win a $250 dinner for two at Bob's Steak & Chop House if they can correctly select the Premiere Stakes winner. The promotion kicks off a four-day week to celebrate the track's 10th season.
There's tremendous buzz about Lone Star's two post-race country music concerts on Friday and Saturday. Fast climbing star Chris Cagle, who recently notched his eighth hit single with "Miss Me Baby," will take to a specially constructed stage near the racetrack after Friday's 10th and final race at approximately 11 p.m. Following Saturday's 11-race program, Jason Boland & The Stragglers will perform for about an hour starting at 6:30 p.m., followed by two-time Grammy winner Lee Ann Womack. Both concerts are included in the $3 general admission to the races, but the price will increase to $15 after 9 p.m. Friday and after 5 p.m. Saturday.
Live racing and music is nothing new to Lone Star. There will be other performances between races in the outdoor Courtyard of Champions all weekend, as well as every Friday and Saturday at the meet. The Project will perform from 7-11 p.m. Thursday. Zane Lewis renews Lone Star's popular Friday night "Party at the Park" tradition (with $1.75 Bud Light cans) from 7-11 p.m. Meanwhile, Scott Whitaker and The Factory are scheduled to perform Saturday and Sunday, respectively, from 12-4 p.m.
Sunday's nine-race Easter program is complimented by arguably the largest Easter Egg Hunt in North Texas. More than 30,000 eggs filled with candy, toys, Six Flags Over Texas tickets and even iPod Shuffles will be scattered throughout the lawn area near the top of the stretch from 12-4 p.m. There will be three hunts for children 10 and under (ages 5 and under, 6-8 and 9-10). Other festivities include bounce houses, balloon animals, pony rides, a petting zoo, games and appearances by The Easter Bunny, Tommy Pickles and Angelica of the Rugrats and clowns.
Also, all attendees on Saturday and Sunday will receive a free Lone Star Park magnetic schedule, presented by Budweiser, while supplies last.
Customers will notice new state-of-the-art wagering terminals at the racetrack, thanks to a new partnership with the tote provider AmTote. An upgraded infield tote board that showcases additional information such as win, place and show pools and a new information board also was recently installed.
Lone Star also has a new customer rewards program. "Star Player Rewards" was launched in mid-January and more than 5,300 individuals have already signed up to earn points for rewards. Members receive a discounted $1 general admission and can earn points for discounts and special offers through wagering as well as food and beverage and Gift Shop purchases. They're also eligible for exclusive contests, giveaways, private parties and e-mail communications (if desired). Points are monitored and coupons are redeemed at five conveniently located Star Player Rewards kiosks located in the Grandstand and Post Time Pavilion. Customers who join the free program receive a membership card just minutes after completing an application and presenting a valid Driver's License in person at Lone Star Park.
For more information, call (972) 263-RACE or log onto lonestarpark.com.