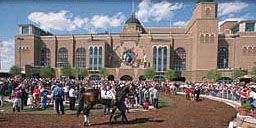 On-Track Business Stable for Lone Star Park's 10th Spring Thoroughbred Season
On-track business remained stable during Lone Star Park at Grand Prairie's 10th Spring Thoroughbred Season as approximately 6,900 customers passed through the turnstiles daily and wagered more than $1.05 million on average during the 66-date meeting that concluded Sunday. Attendance slipped just 1.3% and on-track handle was off only 2.2% from the 2005 averages.
"We're pleased to be virtually even with last year's on-track business levels, especially when you consider that our competitive factors have increased," said Drew Shubeck, who completed his first season as Lone Star Park's Vice-President and General Manager. "Competition from out-of-state venues that offer alternative forms of gaming and the growth of online wagering continues to be a challenge for Texas horse racing. We also had to overcome weather-related challenges this season on several big event days and a playoff run from the Dallas Mavericks that culminated with a trip to the NBA Finals in mid-June. Challenges in a great market like Dallas-Fort Worth will always exist, but our team did a tremendous job to maintain business levels."
Lone Star, which ran its meeting over 15 weeks from April 13 to July 23, went head-to-head with Dallas Mavericks playoff games on 14 occasions, and was threatened by rain on 17 occasions including several big events: Texas Mile/Dollar Day (April 29); Kentucky Derby (May 5); Preakness Stakes (May 20); Lone Star Million (May 29); Dallas Turf Cup (June 17); Father's Day (June 18); Lone Stars & Stripes Fireworks Celebration (July 2-3). Also, there were seven race days with high temperatures of at least 100 degrees compared to just two a year ago.
Despite an increase in average starters per race to 8.71 horses, the off-track export handle at North American simulcast outlets slipped 11.4% to $1.5 million daily versus $1.7 million in 2005. Therefore, wagering on Lone Star's races both on- and off-track was off 9.9% to $1.9 million each day compared to $2.1 million a year ago.
"We need to make our product more attractive for both on- and off-track customers," Shubeck said. "We're taking a hard look at repositioning stakes races to create more big event days for our 10th anniversary in 2007. Also, we should average three to four turf races daily next year thanks to enhancements that will occur to our turf course this summer.
"Additionally, we want to provide more amenities for our on-track patrons, such as additional betting windows and a new bar in the saddling paddock. We also plan to take our customer rewards program to another level this summer so we can offer added value to the loyal customers that frequent Lone Star Park on a year-round basis for simulcast wagering. More than any other time in my career, I can't wait until opening day next year."
Season highlights included crowds of 20,736 and 17,617 - the two most attended days of the meet - for racing and post-race holiday fireworks on July 2-3. Other popular promotions included two "Dollar Days" that helped lure 14,437 fans and $1.78 million in on-track wagers for the April 29 Texas Mile Day program and 13,134 customers and $1.67 million in on-track bets on Saturday, July 15.
Lone Star also had a sharp 17.9% jump in attendance on opening weekend with 46,164 customers in attendance compared to 39,154 in 2005. Lone Star did not have to compete with NASCAR's Samsung/Radio Shack 500 at nearby Texas Motor Speedway this year and featured post-race country music concerts by Lee Ann Womack and Chris Cagle and an Easter Egg Hunt on Easter Sunday.
Despite thunderstorm threats, more than $3.3 million was wagered on-track by the 16,455 in attendance on Kentucky Derby Day - a 7.5% and 6.3% attendance and handle jump, respectively. Lone Star Million, staged for the eighth time on Memorial Day with six stakes races totaling more than $1 million in purses, remained a popular draw both locally and nationally. The 12,508 in attendance wagered in excess of $1.6 million on-track and another $2.8 million was bet at simulcast outlets.
On the racetrack, Magnum was crowned Horse of the Meeting and Champion Older Male for his sensational 1 ¼-length victory over Texcess in the Grade III, $400,000 Lone Star Park Handicap - the meet's richest race. Veteran jockey Cliff Berry notched his second straight local riding title and eclipsed Corey Lanerie's 1999 mark of 102 wins in a single season with 103 trips to the Lone Star winner's circle. Steve Asmussen, the three-time national win-leader, held off Bret Calhoun and Cody Autrey (55-52-51) to win his eighth local training title despite missing the final eight days due to a Louisiana suspension. Jerry and Sandy Heflin of Rockwall, Texas won 17 races to upend four-time champ Tom Durant by one as Lone Star's leading owner.
Live racing at Lone Star Park will resume Friday, Oct. 6 for the 32-date Fall Meeting of Champions. The nine-week meeting for American Quarter Horses will continue Wednesday through Saturday nights at 6:35 p.m. CT through Saturday, Dec. 2. The 14th running of the MBNA America Challenge Championships featuring five Grade 1 races on Saturday, Nov. 11 is among the highlights.
Until then, simulcast wagering in the Post Time Pavilion continues seven days a week, topped by popular summer signals such as Del Mar and Saratoga (opening day is Wednesday, July 26). The smoke-free second floor of Lone Star's grandstand will be open Saturdays and Sundays for simulcast wagering, as well.
Daily Attendance & Handle Averages: 2006 (66 dates) vs. 2005 (67 dates) +/-
Attendance: 6,900 vs 7,000 (- 1.3%)
On-Track, Total Handle (Live & Import): 1.05 million vs. $1.08 million (- 2.2%)
On-Track, Live Handle: $443,000 vs. $465,000 (- 4.8%)
On-Track, Import Handle: $612,000 vs. $613,000 (- 0.2%)
Off-Track, Export Handle: $1.5 million vs. $1.7 million (- 11.4%)
Live Product/Merge Handle (On-Track, Live & Off-Track): $1.9 million vs. $2.1 million (- 9.9%)
All-Sources Handle (On-Track Total & Off-Track): $2.6 million vs. $2.8 million (- 7.9%)
Total Attendance & Handle: 2006 (66 dates) vs. 2005 (67 dates) +/-
Attendance: 457,000 vs. 470,000 (- 2.8%)
On-Track, Total Handle (Live & Import): $69.6 million vs. $72.2 million (- 3.6%)
On-Track, Live Handle: $29.2 million vs. $31.2 million (- 6.2%)
On-Track, Import Handle: $40.4 million vs. $41.1 million (- 1.7%)
Off-Track, Export Handle: $97.9 million vs. $112.1 million (- 12.7%)
Live Product/Merge Handle (On-Track, Live & Off-Track): $127.2 million vs. $143.3 million (- 11.3%)
All-Sources Handle (On-Track Total & Off-Track): $170.1 million vs. $187.5 million (- 9.3%)
Attendance Highs
Attendance, Single Day - 20,736, July 3 (Lone Stars & Stripes Fireworks)
Attendance, Wednesday, Single Day - 3,259, April 19
Attendance, Thursday, Single Day - 8,715, April 13 (Opening Night)
Attendance, Friday, Single Day - 11,612, April 14
Attendance, Saturday, Single Day - 16,455, May 6 (Kentucky Derby Day)
Attendance, Sunday, Single Day - 17,617, July 2 (Lone Stars & Stripes Fireworks)
Attendance, Monday, Single Day - 20,736, July 3 (Lone Stars & Stripes Fireworks)
Handle Highs
On-Track, Total Handle (Live & Import) - $3,330,245, May 6 (Kentucky Derby Day)
On-Track, Live Handle - $979,674, May 29 (Lone Star Million Day)
On-Track, Import Handle - $2,466,823, May 6 (Kentucky Derby Day)
Off-Track, Export Handle - $2,823,047, May 29 (Lone Star Million Day)
Live Product/Merge Handle (On-Track, Live & Off-Track) - $3,802,721, May 29 (Lone Star Million Day)
All-Sources Handle (On-Track Total & Off-Track) - $5,407,521, May 29 (Lone Star Million Day)
Other Statistical Information: 2006 (66 dates) vs. 2005 (67 dates) +/-
Total Purses: $13.4 million vs. $14.3 million (- 6.2%)
Average Daily Purses: $204,000 vs. $214,000 (- 4.8%)
Total Races: 649 vs. 657 (- 1.2%)
Total Starters: 5,664 vs. 5,671 (- 0.1%)
Average Starters Per Race: 8.71 vs. 8.63 (+ 0.9%)
Total Fields With Six Starters or Less: 94 vs. 114 (- 17.5%)
Winning Favorites: 37.3% or 242-for-649 vs. 34.4% or 226-for-657 (+ 7.1%)
Average Winning Beyer Speed Figure: 68.9 vs. 71.5 (- 3.7%)
Total Turf Races: 162 vs. 186 (- 12.9%)
Total Lost Turf Races: 16 vs. 7 (+128.6%)
Total Claims, Number: 172 vs. 173 (- 0.6%)
Total Claims, Dollars: $1,912,500 vs. $2,232,500 (- 14.3%)
Total Scratches: 370 vs. 373 (- 0.8%)
Days with "Off" Racetracks: 13 vs. 10 (+ 30.0%)
Days with Rain or Threats of Rain: 17 vs. 16 (+ 6.3%)
Average Raceday High Temperature: 90.9 vs. 87.6 (+ 3.8%)
Days with High Temperatures of 100 and Up: 7 vs. 2 (+ 250.0%)
Days Head-to-Head with Mavericks/Stars Raceday Playoff Games: 17 vs. 10 (+ 70.0%)
Champions
Horse of the Meeting - Magnum (1-1-0-0-$240,000), Grade III Lone Star Park Handicap winner
Champion Older Male - Magnum (1-1-0-0-$240,000), Grade III Lone Star Park Handicap winner
Champion Older Female - Sweet Talker (1-1-0-0-$120,000), Grade III WinStar Distaff Handicap winner
Champion Turf Horse - Sweet Talker (1-1-0-0-$120,000), Grade III WinStar Distaff Handicap winner
Champion Sprinter - War Bridle (4-3-1-0-$65,600), Carter McGregor Jr. Memorial Stakes winner
Champion 3-Year-Old Male - Wanna Runner (1-1-0-0-$185,000), Grade III Walmac Lone Star Derby winner
Champion 3-Year-Old Female - Brownie Points (1-1-0-0-$60,000), Stonerside Stakes winner
Champion 2-Year-Old Male - Be a Resident (3-3-0-0-$145,584), TTA Sales Futurity & Texas Stallion Stakes winner
Champion 2-Year-Old Female - Miss Mary Pat (4-3-0-0-$101,598), TTA Sales Futurity & Silver Spur Stakes winner
Champion Texas-bred Male - Dreamsandvisions (1-1-0-0-$45,000), Assault Stakes winner
Champion Texas-bred Female - Open Meadows (4-3-0-0-$114,000), Texas Stallion & Valor Farm Stakes winner
Champion Claiming Horse - Sweepingly (6-4-0-1-$101,860), Beck Auto Group Turf Sprint Handicap winner
Seasonal Leaders
Jockeys
Wins, Jockey - 103, Cliff Berry (2nd local title)
Earnings, Jockey - $1,783,815, Cliff Berry (2nd local title)
Stakes Wins, Jockey - 8, Quincy Hamilton (equals Eddie Martin's 2003 record)
Wins, Turf, Jockey - 29, Quincy Hamilton
Wins, 2-year-olds, Jockey - 16, Cliff Berry
Win Percentage, Jockey (min. 50 mounts) - 24.6%, Cliff Berry (103-for-418)
Top 3 Percentage, Jockey (min. 50 mounts) - 56.7%, Cliff Berry (237-for-418)
High Average Win Payoff, Jockey (min. 10 wins) - $36.70, Filemon Rodriguez (16-for-311)
Mounts, Jockey - 424, Quincy Hamilton
Wins, Apprentice Jockey - 21, Jorge Guzman (most since Josh Boyd's record 33 wins in 2000)
Trainers
Wins, Trainer - 55, Steve Asmussen (8th local title)
Earnings, Trainer - $1,336,751, Steve Asmussen (8th local title)
Stakes Wins, Trainer - 7, Steve Asmussen
Wins, Turf, Trainer - 12, John Locke
Wins, 2-year-olds, Trainer - 13, Bret Calhoun
Win Percentage, Trainer (min. 50 starters) - 31.3%, Cody Autrey (51-for-163 - 3rd straight Spring TB Season)
Top 3 Percentage, Trainer (min. 50 starters) - 62.6%, Cody Autrey (102-for-163 - 3rd straight Spring TB Season)
High Average Win Payoff, Trainer (min. 10 wins) - $16.40, Brent Davidson (12-for-113)
Starters, Trainer - 244, Steve Asmussen
Owners
Wins, Owner - 17, Sandy & Jerry Heflin of Rockwall, Texas (1st local title)
Earnings, Owner - $350,000, Mike Pegram (1st local title)
Stakes Wins, Owner - 3, Wayne Sanders (two in partnership with Larry Hirsch)
Win Percentage, Owner (min. 15 starters) - 34.6%, Wimp Free Racing Stables (9-for-26)
Top 3 Percentage, Owner (min. 15 starters) - 76.5%, Carl Moore Management LLC (26-for-34 - 2nd straight season)
Starters, Owner - 87, Jim Bausch
Horses
Wins, Horse - 4, Sweepingly (6-4-0-1-$101,860)
Stakes Wins, Horse - 2, Be a Resident, Miss Mary Pat and Open Meadows
Earnings, Horse - $240,000, Magnum
High Mutuels
$2 Win - $166.60, Hadiftreasure, April 16, Race 2
$2 Exacta - $1,300.00, April 16, Race 2
$2 Quinella - $660.00, June 24, Race 5
$2 Trifecta - $18,955.80, June 24, Race 5
10-cent Superfecta -- $18,748.29, May 12, Race 1
$2 Double - $1,085.80, April 30, Races 8-9
$2 Pick 3 - $4,925.00, July 20, Races 7-9
50-cent Pick 4 - $10,608.80, May 25, Races 6-9
Fastest Times Of The Meet - Main Track
4 ½ FURLONGS (15 RACES)
:51.53, Peerless Tee (April 15 Str10000)
:51.63, Mary's Gray Boy (May 5 MdSpWt)
:52.37, Miss Abajo (April 20 MdSpWt)
:52.40, Touchofreality (April 30 Tx-MdSpWt)
:52.41, Ana Martha (May 4 MdSpWt)
5 FURLONGS (26 RACES)
:57.75, Peerless Tee (May 6 Str10000)
:57.81, Heres a Memory (July 4 Aoc35000nw3/x)
:58.06, Expect Flowers (May 5 Mcl30000)
:58.15, Translator (May 21 MdSpWt)
:58.24, Disengage (May 7 Clm15000)
5 ½ FURLONGS (78 RACES)
1:03.35, Satellite (July 23 Aoc26000nw1/x)
1:03.41, Altimeter (April 16 MdSpWt)
1:03.56, Mr. Smee (April 19 Clm30000nw2/L)
1:03.76, Eldon's Effort (July 9 MdSpWt)
1:03.81, Snuck By (July 9 Tx-Alw25000nw1/x)
6 FURLONGS (156 RACES)
1:09.71, Matty's Song (May 12 Aoc35000nw2/x)
1:09.80, Crowning Victory (May 6 Clm30000nw2/L)
1:09.80, Lumbre (June 24 Aoc29000nw3/x)
1:09.92, Altimeter (May 4 Alw27000nw2/L)
1:09.94, Elliecat (May 19 Alw28000nw3/L)
6 ½ FURLONGS (32 RACES)
1:16.14, Rain On Monday (July 8 Harold Goodman Memorial Stakes)
1:16.20, Random Gold (May 10 Aoc31000nw3/x)
1:16.34, Nuttyboom (July 14 Aoc45000nw3/x)
1:16.99, Mr. Meso (July 3 Aoc35000nw2/x)
1:17.70, Lord of the Track (May 19 Tx-Alw28000nw2/x)
7 FURLONGS (16 RACES)
1:22.74, Seeking Gold (July 23 Clm18000)
1:22.76, Scat Cat Jimmy (April 30 Clm18000)
1:23.79, Isnt It Rich (April 26 Tx-Alw28000nw2/x)
1:23.87, Preachers Luck (April 27 Tx-Clm10000nw3/L)
1:24.10, Paltu (June 30 Tx-Clm20000nw2/L)
1 MILE (140 RACES)
1:36.81, Preachinatthebar (April 29 Texas Mile)
1:37.33, Doctor Decherd (April 16 Alw28000nw3/L)
1:37.38, Senor Amigo (April 13 Premiere Stakes)
1:37.54, Groovy Chief (April 21 Clm18000)
1:37.65, Cajole (April 21 Alw36000nw2/3mx)
1 1/16 MILES (20 RACES)
1:42.88, Magnum (May 29 Lone Star Park Handicap)
1:43.71, Wanna Runner (May 13 Walmac Lone Star Derby)
1:43.77, Dreamsandvisions (July 8 Assault Stakes)
1:44.63, Red Soldier (April 19 Clm15000)
1:45.64, Ludmig (April 21 Alw27000nw1/x)
1 1/8 MILES (1 RACE)
1:55.22, Nates Colony (May 19 Clm4000)
Fastest Times Of The Meet - Turf Course
5 FURLONGS ON TURF (38 RACES)
:55.94, Lismore (June 8 Alw27000nw1/x)
:56.20, Magic Power (May 25 Aoc35000nw2/x)
:56.46, Mystery Classic (June 30 Alw25000nw1/x)
:56.55, Tricky Storm (April 13 Clm15000)
:56.56, Lismore (July 7 Aoc26000nw2/x)
7 ½ FURLONGS ON TURF (41 RACES)
1:27.90, Song Dancer (July 16 Clm25000) - Course Record (Eclipsed Special Moments' 1:28.20 on May 24, 1998)
1:28.39, Tale of Freedom (June 9 Aoc31000nw3/x)
1:28.52, Popped Corn (June 11 Clm15000)
1:28.68, Won Ton Win (May 17 Aoc35000nw2/x)
1:28.69, Comalagold (April 26 Aoc45000nw3/x)
1 MILE ON TURF (53 RACES)
1:34.44, Truth by Ruth (May 17 Aoc31000nw3/x)
1:34.57, Trial By Jury (May 18 Aoc45000nw3/x)
1:34.74, Cajole (June 2 Alw36000nw2$/6mx)
1:34.86, Palace Rumor (July 15 Aoc26000nw2/x)
1:34.90, Nobodywantmetilnow (July 22 Bob Johnson Memorial Stakes)
1 1/16 MILES ON TURF (24 RACES)
1:40.57, Waupaca (May 20 Connecting Terms Stakes)
1:40.96, Candy Ball (July 15 Fresa Stakes)
1:41.92, Southern Ransom (July 16 Alw25000nw1/x)
1:42.25, Purely Classic (May 13 Shp18000)
1:42.26, James Ready Magic (May 20 Alw27000nw1/x)
1 1/8 MILES ON TURF (3 RACES)
1:49.06, Purely Classic (June 3 Shp18000)
1:51.16, Thirteen Colonies (May 4 Clm10000)
1:52.69, Trial by Jury (June 17 Dallas Turf Cup H)
1 3/8 MILES ON TURF (1 RACE)
2:16.12, Hamaaly (June 24 Shp18000)
1 1/2 MILES ON TURF (1 RACE)
2:29.82, Thirteen Colonies (July 22 Shp18000)
TOP DAILY RACING FORM BEYER SPEED FIGURES OF THE MEET
111, Magnum (May 29 Lone Star Park Handicap)
109, Texcess (May 29 Lone Star Park Handicap)
101, Real Dandy (May 14 Alw37000nw2$/6mx)
99, Kip Deville (April 29 Grand Prairie Turf Challenge)
99, Preachinatthebar (April 29 Texas Mile)
MOST DECISIVE VICTORIES OF THE MEET
13 ¼ lengths, Chasen Chas (May 14 Mcl10000)
12 ¾ lengths, Young Royalty (April 21 Mcl30000)
12 ¼ lengths, Cosporosity (April 22 Mcl20000)
12 lengths, Southern Humour (April 15 Tx-MdSpWt)
12 lengths, Foxwood Annie (July 9 Clm10000nw3/L)
LARGEST $2 WIN PAYOFFS OF THE MEET
$166.20, Hadiftreasure (April 16 Tx-Mcl10000)
$146.40, Ciens Storm (July 20 Clm10000)
$99.40, Little Stevie (July 7 Tx-Mclm10000)
$95.00, Dashin' Daniel (June 10 Clm4000)
$80.20, Goldon (July 13 Aoc26000nw2/x)
JOCKEYS - MULTI-WIN DAYS
5 wins, Cliff Berry (April 15 and June 9)
4 wins, Cliff Berry (April 19, May 6, June 2, June 16, July 1 and July 15), Quincy Hamilton (April 28)
3 wins, Cliff Berry (June 11, July 8 and July 16), Roman Chapa (July 3), Quincy Hamilton (April 22, May 10, May 11, May 25 and June 3), Alfredo Juarez Jr. (May 27 and June 10), Casey Lambert (June 9), Glen Murphy (April 13, June 24 and June 30), Luis Quinonez (May 29), Justin Shepherd (May 13), Jaime Theriot (April 26, April 27, July 22 and July 23)
TRAINERS - MULTI-WIN DAYS
4 wins, Cody Autrey (April 19), Scott Blasi (July 22) and Bret Calhoun (May 26 and June 9)
3 wins, Steve Asmussen (April 20 and June 3), Cody Autrey (April 15, June 2, June 11 and June 16), Bret Calhoun (April 28)
DEAD-HEATS FOR WIN
June 22, Race 5, Jaramillo and Waco (Clm25000)
DISQUALIFICATIONS FROM FIRST
April 20, Race 1, Sing Baby Sing (3-1/Lambert) DQ'd to 2nd; Might Mambo (8-5/Murphy) placed 1st
April 28, Race 8, Dance With Dana (2-1/Taylor) DQ'd to 2nd; Seducing Mr. G (4-5/Hamilton) placed 1st
June 11, Race 4, Keokuk (14-1/Eramia) DQ'd to 2nd; Greenhill Charlie (3-5/Gondron) placed 1st
July 13, Race 3, Hadley's Note (3-1/Shepherd) DQ'd to 2nd; La Coyote (4-5/Chapa) placed 1st