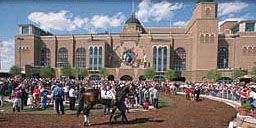 Lone Star to Offer 50-Cent Pick 4s, 10-Cent Superfectas
Lone Star Park at Grand Prairie will be the first racetrack in North America to offer 50-cent Pick 4 wagers when its 67-date Spring Thoroughbred Season gets underway Thursday night. In addition, the Texas racetrack will offer 10-cent Superfectas on all races with at least seven betting interests.
"Horseplayers are looking for bargains," said Jeff Greco, Lone Star Park's Vice-President and General Manager. "We think these wagers will appeal to those bettors as well as the novice."
Lone Star's 50-cent Pick 4, which requires bettors to correctly select the winners in four consecutive races, will be offered twice daily: Races 2-5 and the last four races. The average $1 Pick 4 payoff at the 2004 Spring Thoroughbred Season was $2,010, which means bettors, on average, could easily turn 50 cents into more than $1,000. In fact, Lone Star Park's $1 Pick 4 paid more than $5,000 on a dozen occasions.
The Superfecta asks horseplayers to correctly tab the first four finishers of a race in perfect order. That bet returned a healthy average payoff of $2,282 for each $1 bet in '04. A total of 27 $1 Superfectas paid more than $10,000 a year ago, including a $44,092.50 jackpot on May 31. A dime Superfecta that day would have returned $4,409.30.
Lone Star Park's ninth annual Spring Thoroughbred Season will run for 14 weeks, Thursday through July 17. After opening weekend, racing will be conducted five days a week, Wednesday through Sunday. The first live race on weeknights will be 6:35 p.m. Weekend and holiday action will begin at 1:35 p.m.
Top Five $1 Pick 4 Payoffs at Lone Star Park's 2004 Spring Thoroughbred Season:
1. $20,337.70 (May 31, 2004)
2. $10,654.40 (May 15, 2004)
3. $7,811.20 (June 25, 2004)
4. $7,801.50 (May 28, 2004)
5. $7,112.20 (April 21, 2004)
Top Five $1 Superfecta Payoffs at Lone Star Park's 2004 Spring Thoroughbred Season:
1. $20,337.70 (May 31, 2004)
2. $10,654.40 (May 15, 2004)
3. $7,811.20 (June 25, 2004)
4. $7,801.50 (May 28, 2004)
5. $7,112.20 (April 21, 2004)
LONE STAR'S WAGERING FORMAT: Minimum $2 Win, Place and Show (all races); minimum $1 Exactas (all races), $1 Quinellas (all races), Trifectas (six or more betting interests), Pick 3s (rolling), $2 Daily Doubles (first two and last two races); $0.10 Superfectas (seven or more betting interests); $0.50 Pick 4s (Races 2-5 and last four races).
LONE STAR'S TAKEOUT RATES: WPS, 18%; Exactas, Quinellas and Daily Doubles, 21%; Trifectas, Superfectas, Pick 3s and Pick 4s, 25%.
DOWN THE STRETCH: Add 18-year-old jockey Justin Sheppard to the list of new jockeys scheduled to ride at Lone Star Park in 2005. Agent Scott Hare, who also handles the book for Lone Star's 2000 leading rider Glen Murphy, will book mounts for Sheppard. Sheppard, currently based at Oaklawn, had ridden 16 winners at the Hot Springs meeting through Sunday, and will remain there through Saturday to honor prior commitments. Sheppard, now a journeyman, rode more than 100 winners as an apprentice, including Josh's Madelyn in the Grade II Raven Run Stakes at Keeneland last October...Another new face expected to make an impact is Quincy Hamilton, the 21-year-old who was the leading rider at the 2004 Remington Park meet and 2004-05 Sam Houston meet. Monty Penny will be his agent...Other jockeys expected to ride regularly include: Jeremy Beasley (agent Larry Spraker), Cliff Berry (Richard McNaughton), Patrick Boxie, John Byrne (Larry Spraker), Roman Chapa (Bobby Kelly), Kevin Cogburn (Monty Penny), Jeremy Collier, Ricky Faul (Travis Church), Cathleen Garner, Casey Lambert (Bobby Kelly), Don Pettinger (Richard McNaugton), Adrian Ramos (Shawn Berquist), Filamon Rodriguez, Terry Stanton (Kevin Johnson), Larry Taylor (Travis Church) and Jaime Theriot (Shawn Berguist)...Entries for opening night, including the $50,000 Premiere Stakes, will be taken Tuesday morning. The Premiere, a one-mile stakes event for older Texas-breds, will be run in its traditional spot - the first race of the season...All patrons who pass through Lone Star's turnstile before 6:15 p.m. on opening night will be given an entry blank to enter the "Premiere Steaks Handicapping Contest." Those who correctly identify the Premiere Stakes winner will have a chance to win a $250 gift certificate to Bob's Steak & Chop House...Nikki Hale, who sung the National Anthem on Breeders' Cup Day at Lone Star Park, will return to sing the National Anthem and God Bless America on opening night...Trainer Steve Asmussen, the national win leader in 2004 with a record 555 victories, will be honored Wednesday night from 6:30 p.m. to 9:30 p.m. at Lone Star's "Welcome Back Party" that benefits the Lone Star Park Charitable Foundation for Grand Prairie. Tickets are $50 and can be purchased by calling (972) 237-4367. The event includes an open bar, heavy hors d'oeuvres, desserts and a live and silent auction...Asmussen will also be saluted between races on Opening Night...Nearly 20% of Asmussen's record 555 wins in '04 came at Lone Star Park (106: 82 at the Spring Thoroughbred Season and 24 at the Fall Breeders' Cup Meeting where he collected his sixth and seventh Lone Star Park training titles, respectively...Asmussen, easily the national win leader this year with 149 wins through Sunday, is currently on pace for 544 wins in 2005.