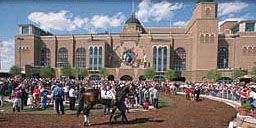 Lone Star Park Announces 2007 Spring Thoroughbred Season Stakes Schedule
Lone Star Park at Grand Prairie's foremost race for fillies and mares on turf will be run as the Ouija Board Handicap in 2007 as a tribute to the international champion that won the Breeders' Cup Filly & Mare Turf over the Lone Star Park turf course in 2004.
"Ouija Board was simply magnificent throughout her stellar career and shined at Lone Star Park in the 2004 Breeders' Cup World Championships," said Lone Star Park Vice-President and General Manager Drew Shubeck. "It's only fitting that one of the greatest mares of all-time (a career record of 22-10-3-5-$6,334,296 and two-time winner of the Breeders' Cup Filly & Mare Turf and Europe's Horse of the Year title) be honored with our greatest race for fillies and mares on turf."
That salute, along with the repositioning of the Dallas Turf Cup Handicap to Lone Star Million Day and the creation of a Lone Star Million Preview Day, highlight Lone Star Park's 32-race, $3,435,000 Spring Thoroughbred Season stakes schedule that was announced Thursday, Dec. 28.
Lone Star Park will celebrate its 10th anniversary of live racing in 2007 - the track's first live race was April 17, 1997 - with a 67-date meeting that will span 16 weeks from April 12 through July 29.
The Grade III, $200,000 Ouija Board Handicap, a one-mile turf fixture for females known as the WinStar Distaff Handicap since 2000, is one of six stakes events that comprise the ninth Lone Star Million on Memorial Day, Monday, May 28. The centerpiece of the day is once again the Grade III Lone Star Park Handicap for 3-year-olds and up at 1 1/16 miles - the meeting's richest race with a $400,000 purse for the second consecutive year.
Joining the Lone Star Million lineup - Texas' richest day of racing with stakes purses totaling $1.1 million - is the Grade III, $200,000 Dallas Turf Cup Handicap. The 1 1/8-mile turf test for 3-year-olds and up was previously staged in mid-June and replaces the Lone Star Park Turf Sprint Stakes, which was moved to Wednesday, July 4.
Texas Mile Day on Saturday, April 28 will now double as Lone Star Million Preview Day. The Grade III, $300,000 Texas Mile, a one-mile event for 3-year-olds and up, is one of four stakes events and two high-level allowance races that will serve as preludes to the Lone Star Million. The card also will include the $60,000 Irving Distaff Stakes (a local prep for the Ouija Board Handicap), $60,000 Grand Prairie Turf Challenge Stakes (a steppingstone to the $100,000 Pin Oak Stud USA Stakes for 3-year-olds on turf) and $50,000 Richland Hills Stakes (a precursor to the $100,000 Stonerside Stakes for 3-year-old fillies sprinters).
The Grade III, $300,000 Lone Star Derby at 1 1/16 miles - one of five graded stakes races at the meeting - is once again positioned one week after the Kentucky Derby on Saturday, May 12.
LONE STAR PARK AT GRAND PRAIRIE
2007 THOROUGHBRED SEASON STAKES SCHEDULE (APRIL 12-JULY 29)
DATE, PURSE, EVENT, RUNNING, CONDITIONS, DISTANCE
Thu., April 12, $50,000 Premiere Stakes, 11th, TX 3YO & Up, 1 Mile
Sat., April 21, $50,000 JEH Stallion Station Stakes, 11th, TX F&M 3YO & Up, 6 ½ Furlongs
LONE STAR MILLION PREVIEW DAY
Sat., April 28, $300,000 Texas Mile (Gr. III), 11th, 3YO & Up, 1 Mile
Sat., April 28, $60,000 Irving Distaff Stakes, 11th, F&M 3YO & Up, 7 ½ Furlongs (T)
Sat., April 28, $60,000 Grand Prairie Turf Challenge Stakes, 11th, 3YO, 1 Mile (T)
Sat., April 28, $50,000 Richland Hills Stakes, 11th, 3YO F, 6 Furlongs
LONE STAR DERBY DAY
Sat., May 12, $300,000 Lone Star Derby (Gr. III), 11th, 3YO, 1 1/16 Miles
Sat., May 12, $125,000 Texas Stallion Stakes (Stymie Div.), 4th, 3YO C&G ®, 1 1/16 Miles
Sat., May 12, $125,000 Texas Stallion Stakes (Got Koko Div.), 4th, 3YO F ®, 1 1/16 Miles
Sat., May 19, $50,000 Ford Express Stakes, 10th, 3YO & Up, 6 Furlongs
LONE STAR MILLION DAY
Mon., May 28, $400,000 Lone Star Park Handicap (Gr. III), 11th, 3YO & Up, 1 1/16 Miles
Mon., May 28, $200,000 Dallas Turf Cup Handicap (Gr. III), 11th, 3YO & Up, 1 1/8 Miles (T)
Mon., May 28, $200,000 Ouija Board Handicap (Gr. III), 11th, F&M 3YO & Up, 1 Mile (T)
Mon., May 28, $100,000 Pin Oak Stud USA Stakes, 11th, 3YO, 1 1/16 Miles (T)
Mon., May 28, $100,000 Stonerside Stakes, 9th, 3YO F, 7 Furlongs
Mon., May 28, $100,000 Valid Expectations Stakes, 11th, F&M 3YO & Up, 6 Furlongs
Sat., June 9, $100,000-est. TTA Sales Futurity (Colts & Geldings Div.), 18th, 2YO C&G ®, 5 Furlongs
Sat., June 9, $100,000-est. TTA Sales Futurity (Fillies Div.), 15th, 2YO F ®, 5 Furlongs
Sat., June 16, $50,000 Carter McGregor Jr. Memorial Stakes, 11th, TX 3YO & Up, 6 Furlongs
Sat., June 23, $50,000 Nevill/Kyocera Stakes, 11th, F&M 3YO & Up, 5 Furlongs (T)
Sat., June 30, $100,000 Alysheba Breeders' Cup Stakes, 11th, 3YO, 1 Mile
Sat., June 30, $50,000 Lone Star Oaks, 11th, 3YO F, 1 1/16 Miles (T)
Wed., July 4, $50,000 Lone Star Park Turf Sprint Stakes, 11th, 3YO & Up, 5 Furlongs (T)
STARS OF TEXAS DAY
Sat., July 7, $125,000 Texas Stallion Stakes (Staunch Avenger Div.), 6th, 2YO C&G ®, 5 ½ Furlongs
Sat., July 7, $125,000 Texas Stallion Stakes (Pan Zareta Div.), 6th, 2YO F ®, 5 ½ Furlongs
Sat., July 7, $75,000 Assault Stakes, 10th, TX 3YO & Up, 1 1/16 Miles
Sat., July 7, $50,000 Allen Bogan Memorial Stakes, 11th, TX F&M 3YO & Up, 1 Mile
Sat., July 7, $50,000 Harold V. Goodman Memorial Stakes, 11th, TX 3YO, 6 ½ Furlongs
Sat., July 7, $50,000 Valor Farm Stakes, 10th, TX 3YO F, 6 Furlongs
Sat., July 21, $50,000 Bob Johnson Memorial Stakes, 11th, 3YO & Up, 1 Mile (T)
Sat., July 28, $70,000 Silver Spur Breeders' Cup Stakes, 11th, 2YO F, 6 Furlongs
Sun., July 29, $70,000 Middleground Breeders' Cup Stakes, 11th, 2YO C&G, 6 Furlongs
Total: 32 stakes cumulatively worth $3,435,000