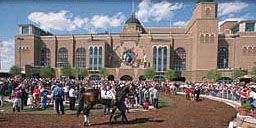 Lone Star Park Selected to Host 2015 AQHA Bank of America Challenge Championships
(Grand Prairie, Texas - Saturday, October 11, 2014) - Lone Star Park at Grand Prairie has been chosen by the American Quarter Horse Association to be the host of the Bank of America Challenge Championships November 6-7, 2015.

The Bank of America Challenge Championships are the finals in a series of Challenge races where horses qualify through win-and-you're-in regional races held in the United States, Canada, Mexico, and South America. Qualifying races are held from early in the year through late fall. Winners of those races meet to compete in the year-end Challenge Championships.

There are a total of 12 stakes races, including the six championship races that offer more than $1 million in purses and prizes. The event will be split over two exciting nights, with the best of the world's fastest athletes competing at Lone Star Park on November 6-7, 2015. The Bank of American Challenge Championships is a true meeting of champions.

This will be the fifth time the Challenge Championships have been held at the Grand Prairie track. Lone Star Park hosted the event in 1998, 2000, 2002 and 2006. Only Los Alamitos Race Course in Los Alamitos, California has played host more times (10).

Come watch, wager and win on this year's Bank of America Challenge Championships. We will be simulcasting the event Saturday, October 18 live from Prairie Meadows Racetrack in Altoona, Iowa. This is the second time Prairie Meadows Racetrack has hosted the event, and its the only track other than Los Alamitos and Lone Star Park to host more than once.

Other tracks that have hosted the event are Evangeline Downs, Fair Grounds, Retama Park, Sam Houston Race Park, Sunland Park, and Turf Paradise.