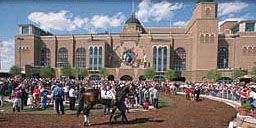 Lone Star Park's Lucrative Quarter Horse Season Stakes Schedule Features 23 Stakes Worth an Estimated $3,000,000
(Grand Prairie, Texas - Tuesday, September 1, 2020) - Lone Star Park's 2020 Fall Meeting of Champions featuring American Quarter Horses opens Friday, September 4 and runs through Saturday, November 28. The meet features 23 stakes worth an estimated combined total of $3,000,000, including 13 with graded status. Headlining the schedule is the $1 million estimated Texas Classic Futurity (G1), along with the $400,000 estimated Texas Classic Derby (G1). Both will be contested on the final night of the season.
A couple of new stakes have been added to the schedule this year. The $100,000 Yellow Rose of Texas Stakes for Texas-bred fillies & mares, three-years-olds & up, at 400 yards will be run on Saturday, October 17. The $35,000 Lone Star 870 Battle of the Breeds, for three-year-olds & up at 870 yards, has been added to the final night's Texas Classic card.
The Refrigerator Handicap (G1) is now worth $200,000, up from $75,000, and the B. F. Phillips, Jr. Stakes (RG3) is worth $125,000, up from $25,000.
The $100,000 Nevill Stakes kicks off the stakes action on Saturday, September 19, followed by the Texas Arabian Oaks (G3) and the Texas Arabian Derby (G3) on Sunday, September 20.
Fan favorites, the $400,000 estimated Dash for Cash Futurity (G2) and $200,000 estimated Dash for Cash Derby (G2) will be held Sunday, September 27.
In addition to the Quarter Horse stakes events, Paint & Appaloosa horses, as well as Arabians, have featured stakes events. See the complete stakes schedule for the 2020 Fall Meeting of Champions featuring American Quarter Horses below:
| | | |
| --- | --- | --- |
| Date | Race | Conditions |
| | | |
| Saturday, Sept. 19 | $100,000 Added, Nevill Stakes | Texas-Bred, three-year-olds & up, 350 yards |
| | | |
| Sunday, Sept. 20 | $30,000 Texas Arabian Oaks, G3 | fillies & mares, three & four-year-olds, one mile |
| | | |
| Sunday, Sept. 20  | $30,000 Texas Arabian Derby, G3 | Three & four-year-olds, 1 1/16 miles. |
| | | |
| Saturday, Sept. 26 | $15,000 Guar. Olympio Joe Stakes (Paint & Appaloosa) | Three-year-olds & up, 350 yards |
| | | |
| Sunday, Sept. 27 | $200,000 Estimated, Dash for Cash Derby, G2 | Three-year-olds, 440 yards |
| | Trials - Saturday, Sept. 12 | |
| | | |
| Sunday, Sept. 27 | $400,000 Estimated, Dash For Cash Futurity, G2 | Two-year-olds, 400 yards |
| | Trials - Sunday, Sept. 13 | |
| | | |
| Sunday, Sept. 27 | $40,000 Est. Dash for Cash Juvenile Stakes | Two-year-olds, 400 yards |
| | | |
| Saturday, Oct. 3 | $20,000 Added, AQHA Distance Challenge, G3 | Three-year-olds & up, 870 yards |
| | Trials - Sunday, September 20 | |
| | | |
| Saturday, Oct. 3 | $20,000 Added, ARC Distaff Challenge | fillies & mares, Three-year-olds & up, 400 yards |
| | Trials - Saturday, September 12 | |
| | | |
| Saturday, Oct. 17 | $30,000 Added, Texas Arabian Juvenile Sprint, G3 | Three-year-olds, 6 furlongs |
| | | |
| Saturday, Oct. 17 | $30,000 Added, Texas Arabian Juvenile Sprint, G3 | fillies, 3-yr-olds, 6 furlongs |
| | Filly Division | |
| | | |
| Saturday, Oct. 17 | $100,000 Added, Yellow Rose of Texas Stakes | Texas-Bred fillies, Three-year-olds & up, 400 yards |
| | | |
| Sunday, Oct. 25 | $200,000 Added, Refrigerator Stakes, G1 | Three-year-olds & up, 440 yards |
| | | |
| Sunday, Nov. 15 | $30,000 Added, Lone Star Paint & Appaloosa Claiming Derby | Three-year-olds, 350 yards |
| | Trials - Saturday, October 31 | |
| | | |
| Sunday, Nov. 15 | $100,000 Est. Lone Star Paint & Appaloosa Futurity, G1 | Two-year-olds, 350 Yards |
| | Trials - Saturday, October 31 | |
| | | |
| Saturday, Nov. 21 | $125,000 Added, B. F. Phillips, Jr. Stakes, RG3 | TX-bred, Three-year-olds & up, 400 yards |
| | | |
| Sunday, Nov. 22 | $30,000 Added, Texas Arabian Stallion Stakes, G3 | Three-year-olds & up, 1 mile |
| | | |
| Sunday, Nov. 22 | $30,000 Added, Texas Arabian Stallion Stakes, G3 | fillies & mares, Three-year-olds & up, 1 mile |
| | Filly & Mare Division | |
| | | |
| Saturday, Nov. 28 | $30,000 Added, Lone Star 870 Battle of the Breeds | Three-year-olds & up, 870 yards |
| | Trials - Saturday, November 14 | |
| | | |
| Saturday, Nov 28 | $400,000 Est. Texas Classic Derby, G1 | Three-year-olds, 440 yards |
| | Trials - Saturday, November 7 | |
| | | |
| Saturday, Nov 28 | $1 million Est. Texas Classic Futurity, G1 | Two-year-olds, 400 yards |
| | Trials - Sunday, November 8 | |
| | | |
| Saturday, Nov 28 | $50,000 Est. Texas Classic Juvenile Stakes | Two-year-olds, 400 yards |
| | | |
| Saturday, Nov. 28 | $25,000 Added, Paragon Oaks | f & m, 3-yr-olds & up, 400 yards |