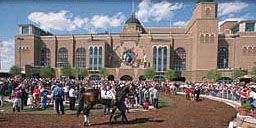 17 Stakes Worth a Combined $2.4 Million Highlight Lone Star Park's 2019 Quarter Horse Racing Season
(Grand Prairie, Texas - Wednesday, August 28, 2019) - Lone Star Park's 2019 Quarter Horse Racing Season is just around the corner. The 16-day meet opens Friday, September 20 and runs through Saturday, November 9. Live racing will be held each Friday and Saturday night beginning at 6:05 p.m.
Opening weekend features the qualifying trials for the $200,000 Dash for Cash Derby (G3) on Friday, September 20, and qualifying trials for the $400,000 Dash for Cash Futurity (G2)on Saturday, September 21. Both the Dash for Cash Derby and Futurity finals will run on Saturday, October 5.

The stakes action begins on Saturday, September 28 with the $20,000 Nevill Stakes for Texas-bred three-year-olds and up at 350 yards.
A pair of Bank of America Regional Challenge races are scheduled for Friday, October 4; the ARC Distaff Challenge for fillies and mares, three-year-olds and up at 400 yards and the AQHA Distance Challenge for three-year-olds and up going 870 yards. Both Challenge races are worth $17,500 apiece, plus the winner of each will be invited to compete in the 2019 Challenge Championships at The Downs at Albuquerque on October 26.
The $75,000 Refrigerator Stakes (G1) for three-year-olds and up at 440 yards will go on Saturday, October 12, followed by the $25,000 B. F. Phillips, Jr. Stakes (RG3) for Texas-bred three-year-olds and up at 400 yards on Saturday, November 2.
In addition to the Quarter Horse stakes events, Paint and Appaloosa horses, as well as Arabians, also have featured stake events. The $20,000 divisional Texas Arabian Lone Star Juvenile races for three-year-olds going six furlongs are on Friday, October 25.
The $50,000 Lone Star Paint and Appaloosa Futurity (G1) is scheduled for Friday, November 8 (trials will be held Friday, October 26). Also on Friday, November 8 are the $20,000 Crystal & Company Arabian Stallion Stakes, featuring divisions for both fillies and colts and geldings.
The meet closes on Saturday, November 9 and features the Texas Classic Races; The $1 million Texas Classic Futurity (G1) at 400 yards, the richest race in the state, and the $400,000 Texas Classic Derby (G1) at 440 yards. Qualifying trials to the derby will be on Friday, October 18, and the qualifying trials to the futurity are Saturday, October 19. Also featured closing night is Lone Star Park's newest Quarter Horse stakes race, the $30,000 Paragon Oaks, sponsored by Paragon Farms LLC of Conroe, Texas. In addition to the winner's share of the purse, Paragon Farms will award the winner a breeding to their horse Flying Cowboy 123, who won last year's Texas Classic Futurity.