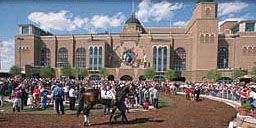 Lone Star Park Releases 2018 Quarter Horse Season Stakes Schedule
(Grand Prairie, Texas - Monday, August 27, 2018) - The world's fastest athletes are set to return to Lone Star Park for the 2018 Quarter Horse Season, which begins Friday, September 21 and runs through Saturday, November 10. A total of 15 stakes races worth over $2.3 million will be run during the 16-day meet. Live racing will be held every Friday and Saturday night. Gates open each scheduled race night at 5:00 p.m., with a first race post time of 6:05 p.m.
Opening weekend features trials for the $200,000 Dash for Cash Derby (G3) on Friday, September 21, followed by trials for the $400,000 Dash for Cash Futurity (G2) on Saturday, September 22. Finals for both will be held on Saturday, October 6, as well as the Dash for Cash Juvenile Stakes.
The signature event of the track's Quarter Horse season is the $1 million Texas Classic Futurity (G1), the richest horse race run annually in Texas. It will be run on the final day of the meet, Saturday, November 10. The $400,000 Texas Classic Derby (G1) and the $80,000, Texas Classic Juvenile Stakes are also a part of the closing night program.
Trials for the Texas Classic Futurity will be held on Saturday, October 20, and trials for the Texas Classic Derby on Friday, October 19. The final fields, of course, are determined by the 10 fastest times from the trials.
The first stakes race of the meet will be the $20,000-guaranteed Nevill Stakes for Texas-Breds, three-year-olds & up at 350 yards on Saturday, September 29.
Friday, October 5, features the $25,000 added AQHA Distaff Challenge for fillies & mares, three-year-olds & up at 400 yards. This is the only race here this season in the Challenge Series.
The remaining graded stakes carded are the $75,000 Refrigerator Stakes (G1) for three-year-olds & up at 440 yards on Saturday, October 13, the $50,000 Lone Star Speedhorse Paint & Appaloosa Futurity (G1) on Saturday, October 27, and the $25,000 B. F. Phillips, Jr. Stakes (RG3) for three-year-olds & up at 400 yards on Saturday, November 3.
Also featured during the season for Arabian horses are two divisions of the Texas Arabian Lone Star Juvenile Stakes for three-year-olds, both at six furlongs on Friday, October 26, and two divisions of the Crystal & Company Arabian Stallion Stakes for three-year-olds & up, both at one mile on Friday, November 9.
Lone Star Park's 2018 Quarter Horse season stakes schedule is as follows:
| | | |
| --- | --- | --- |
| Date | Race | Conditions |
| | | |
| Friday, Sept. 28 | $20,000 Guaranteed Nevill Stakes | Texas-Bred, 3-yr-olds & up, 350 yards |
| | | |
| Friday, Oct. 5  | $30,000 Added AQHA Distaff Challenge | f & m, 3-yr-olds & up, 400 yards |
| | | |
| | | |
| Saturday, Oct. 6 | $200,000 Estimated Dash for Cash Derby (G3) | 3-yr-olds, 440 yards |
| | Trial Date - Friday, Sept. 20 | |
| | | |
| Saturday, Oct. 6 | $400,000 Estimated Dash for Cash Futurity (G2) | 2-yr-olds, 400 yards |
| | Trial Date - Saturday, Sept. 21 | |
| | | |
| Saturday, Oct. 6 | $40,000 Estimated Dash for Cash Juvenile Stakes | 2-yr-olds, 400 yards |
| | Trial Date - Saturday, Sept. 21 | |
| | | |
| Saturday, Oct. 13 | $75,000 Guaranteed Refrigerator Stakes (G1) | 3-yr-olds & up, 440 yards |
| | | |
| Friday, Oct. 26 | $20,000 Texas Arabian Lone Star Juvenile | 3-yr-olds, six furlongs  |
| | Colt & Gelding Division | |
| | | |
| Friday, Oct. 26 | $20,000 Texas Arabian Lone Star Juvenile | 3-yr-olds, six furlongs  |
| | Filly Division | |
| | | |
| Saturday, Oct. 27 | $50,000 Est.  Lone Star Speedhorse Paint & | 2-yr-olds, 400 yards |
| | Appaloosa Futurity (G1) | |
| | Trial Date - Friday, Oct. 12 | |
| | | |
| Saturday, Nov. 3 | $25,000 Guaranteed B.F. Phillips Stakes (RG3) | Texas-bred, 3-yr-olds & up, 400 yards |
| | | |
| Friday, Nov. 9 | $20,000 Added Crystal & Company Arabian Stallion | F & M, 3-yr-olds & up, 1 mile |
| | Stakes | |
| | | |
| Friday, Nov. 9 | $20,000 Added Crystal & Company Arabian Stallion | 3-yr-olds & up, 1 mile |
| | Stakes | |
| | | |
| Saturday, Nov. 10 | $400,000 Estimated Texas Classic Derby (G1) | 3-yr-olds, 440 yards |
| | Trial Date - Friday, Oct. 19 | |
| | | |
| Saturday, Nov. 10 | $1,000,000 Estimated Texas Classic Futurity (G1) | 2-yr-olds, 400 yards |
| | Trial Date - Saturday, Oct.20 | |
| | | |
| Saturday, Nov. 10 | $80,000 Estimated Texas Classic Juvenile Stakes | 2-yr-olds, 400 yards |
| | Trial Date - Saturday, Oct. 20 | |