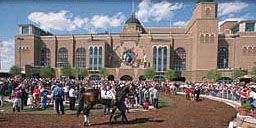 Lone Star Park Season Ends with Record-Setting Gains in Average Daily Handle for Second Consecutive Year
(Grand Prairie, Texas - Sunday, July 22, 2018) - Lone Star Park at Grand Prairie concluded its 22nd Thoroughbred season Thursday with a record increase of 14.7% in average daily handle over 2017. That increase tops last year's increase over 2016 of 11.7%, which set a track record a year ago. Daily average on-track handle on Lone Star increased 5.7% from 2017, and daily average export handle increased by 17.6%.
Especially noticeable is the growth over the last two seasons. Daily average export handle increased 36.4% from 2016 and is indicative of the increased awareness from a high-definition upgrade to our video production beginning with the 2018 season, as well as airing our races on the TVG Network beginning in 2017. Additionally, our racing product was more attractive to bettors, with an average field size of 8.4 starters per race, which was above the industry average and nearly a one horse per race increase over 2017. The increased field size was helped by a purse increase this season.
The all sources handle daily average of just over $1 million per day is the highest daily average since the 2010 Thoroughbred season.
Live On-Track Handle

2018 (41 Days)

2017 (50 Days)

Diff %

2016 (50 Days)

Diff %

Total

$9,826,563.20

$11,337,706.70

Avg/Day

$239,672.27

 $226,754.13

5.70%

$224,366.97

6.82%

Export Handle

2018 (41 Days)

2017 (50 Days)

Diff %

2016 (50 Days)

Diff %

Total

$33,994,494.16

$35,248,068.04

Avg/Day

$829,134.00

$704,961.36

17.61%

$608,066.41

36.36%

All Sources on Lone Star Handle

2018 (41 Days)

2017 (50 Days)

Diff %

2016 (50 Days)

Diff %

Total

$43,821,057.36

$46,585,774.74

Avg/Day

$1,068,806.28

$931,715.49

14.71%

$832,433.38

28.40%
Daily average attendance also increased 3.3% over 2017. The highest attended days included Extreme Racing, Triple Crown days and the July 4 Fireworks Celebration, which each had attendance of over 10,000.
Attendance

2018 (41 Days)

2017 (50 Days)

Diff %

Total

282,783

333,961

Avg/Day

6,897

6,679

3.26%
Season Highlights
Steve Sexton Mile Day - The $200,000 Steve Sexton Mile (Gr. III) took place on Sunday, May 6 and featured the 2018 debut of Girvin, as well as a dominant victory by Bee Jersey for trainer Steve Asmussen. Bee Jersey, who went on to win the Metropolitan Handicap (Gr. I) at Belmont Park, has found his way onto the list of top horses of the year and looks to continue his dirt mile dominance this fall. This marked the second consecutive year the winner of the Sexton Mile went on to win the Metropolitan. Mor Spirit completed the feat in 2017. The all source handle for the day of $1,881,228 was an increase of 19% over 2017 and the biggest single day all source handle since 2011.
Lone Star Park Handicap Day - The $200,000 Lone Star Park (Gr. III) took place on Sunday, May 27 and featured an upset victory by Shotgun Kowboy. The winner defeated favorite Mubtaahij, who was ridden by Mike Smith. Smith shipped in to ride during his Triple Crown bid. The day saw an all source handle of $1,765,172, which was a 52% increase from 2017. Also featured was a $100,000 Guaranteed Late Pick-4, a first for the track, which attracted a record pool of $138,547.
Stars of Texas Day - Sunday, July 15 was Stars of Texas Day and featured four Texas-bred stakes with purses totaling $300,000. The all source handle of $1,630,401 was an increase of 35% from 2017 and the largest Stars of Texas Day handle since 2009.
Season Leaders
Richard Eramia led all jockeys by wins and earnings. He recorded 77 wins from 264 starts, with earnings of $1,139,587. This was the second riding title here for Eramia. He won his first in 2017.
Karl Broberg was top trainer, scoring 69 wins from 230 starts. This was Broberg's fourth training title. He won previously in 2014, 2015 and 2016.
Broberg's End Zone Athletics was the leader in the owner standings, with 39 wins from 111 starts.
Live racing will return for the 2018 Quarter Horse season on Friday, September 21, 2018.