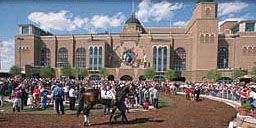 Lone Star Park's Third Annual Jockey Charity Softball Game on Tuesday, June 28
(Grand Prairie, Texas - June 11, 2011) - The Lone Star Park jockey colony will put their softball skills to the test versus Lone Star Park employees in the Third Annual Jockey Charity Softball Game benefiting the Don MacBeth Memorial Jockey Fund. The Macbeth Fund assists injured and disabled jockeys and their families.

On Tuesday, June 28, the jockeys will be looking for their first victory in the "Rumble At The Park." A double-header at Texas Rangers Youth Ballpark, located on the north side of Rangers Ballpark in Arlington at 1202 Nolan Ryan Expressway, is scheduled to begin at 7:30 p.m. Gates open at 6:45 p.m. Admission is $5 at the gate and any cash donations would be greatly appreciated. After the double-header, jockeys will be available for a meet and greet and autographs.

The charity event is a cooperative effort between two major league sports entertainment attractions, the Texas Rangers and Lone Star Park.

About The Don Macbeth Fund: The Don Macbeth Fund is a non-profit organization that was established in 1987 by Actor/Comedian Tim Conway and Judy McCarron, wife of hall-of-fame jockey Chris McCarron. The Fund was named for the late rider, Don MacBeth, who rode Chief's Crown to victory in the first Breeders' Cup race, and who died of cancer in 1987 at the age of 37. Don MacBeth was well respected by all who knew him or rode against him. Macbeth was more than just an exceptional jockey--he was an exceptional man. He lived his life on principle and spent much of his time trying to help those less fortunate than he. From its modest beginnings, Conway's $5,000 donation, the Fund's dollars have seen plenty of use including, renovation of homes to accommodate the use of wheelchairs, conversion of vans and cars with hand controls and side gate lifts, prosthetic devices, wheelchairs, various types of physical therapy equipment, ophthalmologic and dental care, plastic surgery, house and trailer payments, food, rent, and other basic living expenses. The Don MacBeth Memorial Jockey Fund has made a substantial difference in the lives of many grateful jockeys and their families.