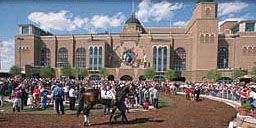 Quarantine Lifted at Lone Star Park; It Was the Result of an Administrative Mistake at Testing Lab
(Grand Prairie, Texas - June 5, 2010) - The quarantine that was placed on the horses of three traines at Lone Star Park on Friday, June 4, turned out to be the result of a mistake in the reading of Equine piroplasmosis tests at a testing lab at Texas A&M University. The mistake was discovered and the quarantine has been lifted.
To read more details, click here to see Gary West's article for the Fort Worth-Star Telegram.