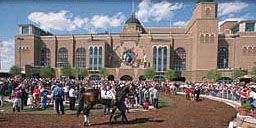 Lone Star Park Finalizes a Revised Stakes Schedule for 2020 Thoroughbred Meet
(Grand Prairie, Texas - Thursday, June 4, 2020) - Lone Star Park's 2020 Thoroughbred racing season was to begin April 18 for a 44-day run, but due to the COVID-19 pandemic, the meet's start was delayed until May 22. The abbreviated 36-day meet, which is allowing no spectators at this time, will run through Sunday, August 2. The revised 2020 Thoroughbred stakes schedule features a total of 18 stakes worth $1.4 million.
Texas Champions Day, which Sam Houston Race Park had scheduled on March 21 but cancelled due to a blown transformer, will now be hosted by Lone Star Park. All seven cancelled stakes that highlight Texas-bred horses will be held Sunday, June 14. Texas Champions Day will feature the $75,000 Bara Lass Stakes, the $75,000 Groovy Stakes, the $75,000 Richard King Turf Stakes, The $75,000 San Jacinto, the $75,000 Spirit of Texas, the $75,00 Star of Texas and the $75,000 Yellow Rose.
Sunday, June 28 will feature three open stakes: the $75,000 Lone Star Park Turf Stakes for fillies and mares, three years old and up, at one mile on the turf; the $75,000 Grand Prairie Stakes for three-year-olds at 1 1/16 miles; and the $75,000 Lone Star Mile for four-year-olds and up at one mile.
The Stars of Texas Preview on Sunday, July 5 will feature the $75,000 Wayne Hanks Memorial, the $75'000 Lane's End Danny Shifflett Scholarship Stakes and two divisions of the Texas Stallion Stakes, the filly division and the colt and gelding division, at $75k apiece.
The final four stakes will go on Sunday, July 26 as part of Stars of Texas Day. They are the $75k Valor Farm, the $75k Highlander Training Center Assault Stakes and the Texas Thoroughbred Futurities, the filly division and the colt and gelding division. Each will run for an estimated purse of $100,000.
"We have worked closely with the Texas Horsemen's Partnership and the Texas Thoroughbred Association to put together a schedule that benefits everyone, especially our horsemen," said Lone Star Park Vice-President of Operations Kent Slabotsky.
The remainder of the 2020 season will run on a Monday through Wednesday schedule, with a post time of 1:35 p.m., with the exception of the above Sunday stakes dates and two Saturdays - June 27 (for the Lone Star Spring Betting Challenge Handicapping Tournament) and August 1 will have a post time of 3:05 p.m.