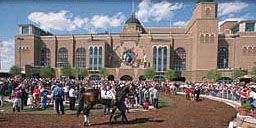 Lone Star Park Introduces New Wagering Format for 2011
(Grand Prairie, Texas - March 17, 2011) - When Lone Star Park's 2011 live Thoroughbred racing season gets underway on Thursday, April 14, bettors will have two new wagering options to consider, the 10-cent Super Hi-5, and the 10-cent Fortune 6. The Fortune 6 will have a low takeout of 12 percent.
The Super Hi-5 is a 10-cent minimum wager that requires bettors to correctly select the first five finishers of a race in exact order. When a winning combination is not sold, all money wagered carries over to the next race where Super Hi-5 wagering is offered. Super Hi-5 wagering will be available on the final race of every program in races with at least seven betting interests.
The 10-cent Fortune 6 is a multiple-race wager requiring bettors to correctly designate the winner of six consecutive races. The entire net Fortune 6 pool and carryover will only be distributed to the holder of a unique 10-cent winning wager. When there are multiple winners, 60 percent of the pool will be shared equally, while 40 percent of the pool goes into the jackpot carryover. When there is no unique 10-cent wager selecting the first place finisher in all Fortune 6 races, 60 percent of the pool will be distributed to those who selected the most winners, and 40 percent of the pool will carry over. The Fortune 6 is offered daily and will comprise the final six races.
Also new on the wagering menu for the 2011 Thoroughbred season, 50-cent rolling Pick 3s, previously offered as a $2 wager.
"Bettors are looking to get more out of their wagering dollars," said Lone Star Park President and General Manager Drew Shubeck. "We feel that by adding these innovative wagers we are keeping up with their demands."
Lone Star Park's wagering format for 2011 will include:
Win, Place, Show
Exacta, Trifecta, Superfecta, Super Hi-5
Daily Double, Pick 3, Pick 4, Fortune 6
All wagers have a $2 minimum, with the exceptions of the 10-cent Superfecta, 10-cent Super Hi-5, 10-cent Fortune 6, 50-cent Pick 3, and 50-cent Pick 4. There is a $1 minimum for all Exacta, Trifecta, Daily Double box and wheel wagers, and Pick 3 and Pick 4 wheel wagers.
Win, Place, Show, and Exacta wagers will be available on all races at Lone Star Park in 2011. There will be Trifectas on races with at least five betting interests, Superfectas on races with at least six betting interests, Super Hi-5 (last race) on races with at least seven betting interests, rolling Pick 3s, two Daily Doubles (first two and last two races), and two Pick 4s (Races 2-5 and the final four races) every day at Lone Star.
Lone Star Park's 52-day 2011 Spring Thoroughbred Season will run four days a week every Thursday and Friday at 6:35 p.m. (except Thursday, June 2 and Thursday, July 7 when there will be no live racing), and Saturday and Sunday at 1:35 p.m. starting on April 14. The Lone Star Million Day program on Memorial Day will start at 1:35 p.m. and special twilight programs with post-race holiday fireworks on Sunday, July 3 and Monday, July 4 (Lone Stars & Stripes Fireworks Celebration) will commence at 5 p.m.
Lone Star Park's 26-day, 2011 Fall Meeting of Champions for American Quarter Horses will be held from Sept. 16 to Nov. 12. For more information on Lone Star Park visit LoneStarPark.com.