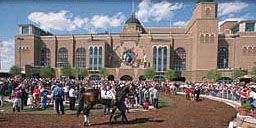 Lone Star Park 2006 Reserved Seats Go On Sale Monday, March 13
Reserved seating for Lone Star Park at Grand Prairie's 10th Spring Thoroughbred Season will go on sale Monday, March 13, at 8:30 a.m.
Patrons can reserve their favorite seating plans by calling (972) 263-PONY or (800) 795-RACE or visiting lonestarpark.com or Lone Star Park's East Gate Will Call. Ticket phone lines - accepting credit card orders only - will be open daily from 8:30 a.m. to 5 p.m. CT.
The 15-week meeting begins Thursday, April 13 and will continue for 66 days through Sunday, July 23.
Reserved seating options range from $6 to $25 per person (includes admission) for the Terrace Level (Grandstand's second level), Silks Dining Terraces (Grandstand's fourth level), Grandstand Apron (outdoors) and inside the Post Time Pavilion, the racetrack's simulcast facility. Private box seating and tables in the Silks Dining Terraces are traditionally areas in high demand. Also, there are options for groups of 20 or more, including private luxury penthouse suites starting at $2,150, by calling (972) 237-1197.
"Big Event Days" have separate pricing plans. Those days are Kentucky Derby Day (Saturday, May 6), Walmac Lone Star Derby Day (Saturday, May 13), Lone Star Million Day (Memorial Day, Monday, May 29), Lone Stars and Stripes Fireworks Celebrations (Sunday, July 2 and Monday, July 3) and a simulcast of the Breeders' Cup World Championships from Churchill Downs (Saturday, Nov. 4) during the 32-date Fall Meeting of Champions for American Quarter Horses that runs Oct. 6-Dec. 2.
Other Spring Thoroughbred Season highlights include a post-race concert by Chris Cagle (Friday, April 14), a post-race concert by Lee Ann Womack and Jason Boland & The Stragglers (Saturday, April 15), Texas Mile Day/Dollar Day (Saturday, April 29), Preakness Stakes Day (Saturday, May 20), Belmont Stakes Day (Saturday, June 10), Dallas Turf Cup Day (Saturday, June 17), Stars of Texas Day (Saturday, July 8) and Fan Appreciation Day (Saturday, July 22).