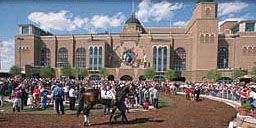 Big Changes and a Brand New Look for Lone Star Park's 17th Spring Thoroughbred Racing Season
(Grand Prairie, Texas - Friday, February 22, 2013) - Get ready to rock as live racing returns to Lone Star Park Thursday, April 11, celebrating its 17th season of Spring Thoroughbred racing. Big changes, new additions and exciting renovations await fans this season with plenty of entertainment, promotions and the highly successful Lone Star Music Series concert schedule.

The 50-date Spring Thoroughbred Season will run 13 weeks through Saturday, July 6 with live racing on Thursday and Friday nights at 6:35 p.m. CT and Saturday and Sunday afternoons at 1:35 p.m. CT. Special holiday programs are also scheduled for Monday, May 27 (1:35 p.m. CT), Wednesday, July 3 and Thursday, July 4 (5:00 p.m. CT).

Opening Day, Thursday, April 11 begins with Lone Star Park's traditional opening ceremonies, followed by the 17th running of the $50,000 Premiere Stakes, the traditional first race of the season.

Friday, April 12, the 2013 Lone Star Music Series kicks off with Texas-bred MCA Nashville recording arstist Randy Rogers Band performing after the last live race.
Saturday, April 13, will be the 17th running of the $50,000 JEH Stallion Station Stakes followed by multi-platinum selling MCA Nashville recording artist Gary Allan who takes the stage after the last live race.
Sunday, April 14, is Family Fun Day at the races with pony rides, a petting zoo, bounce houses and more in the Family Fun Park. Sunday also marks the return of Jazz Brunch in the newly renovated Silks Dining Terraces.

The main 1,200 seat Silks Dining Terraces are undergoing a dramatic renovation including new chairs and a completely redesigned television presentation. Additionally, a new menu featuring many of the traditional favorites with an influx of exciting new flavors and a wide variety of offerings will be launched just in time for opening day.

Senior Citizens'/Military Discount Day returns for all seniors aged 62 or older with valid ID and all military personel with a vaild ID card will receive free General Admission continuing each Sunday through June 16.

Pepsi Can Day returns on Sundays and continues though June 16. Bring any Pepsi can and receive (1) free general admission and (1) free large Pepsi.

Returning race fans will be delighted by the completed installation of the new infield video screen. Nearly twice as wide as the previous JumboTron, the huge new 17'x60' Daktronics LED screen displays beautifully vivid color and crisp HD digital graphics.

Lone Star's 11-race stakes schedule worth $1.1 million continues with a complete renovation of the track surface. Reconditioning of the main track included the removal of all cushion material in order to fully inspect the limestone base, reapplication of the cushion, allowing sub-cushion material to blend with saved cushion material plus the addition of washed sand, clay and an organics mixture to ensure track safety and consistency. Premier events include the Grade 3, $200,000 Texas Mile for 3-year-olds and up on Saturday, April 26 and the Grade 3, $300,000 Lone Star Park Handicap for 3-year-olds and up on Monday, May 27 (Memorial Day).

Other featured race dates will be simulcasts of the Triple Crown: the Kentucky Derby from Churchill Downs Saturday, May 4, the Preakness Stakes from Pimlico Race Course Saturday, May 18 and the Belmont Stakes from Belmont Park Saturday, June 8.

Lone Stars and Stripes will be celebrated with two nights of fireworks plus a vehicle giveaway on Wednesday, July 3 and a trip giveaway Thursday, July 4. First race post time both days is 5:00 p.m. CT with fireworks shows after the last live race.

Other notable promotional days include the return of Dollar Day, Saturday, April 20 and "WinStar Win A Million Day," Memorial Day, Monday, May 27. For more information please check out www.lonestarpark.com.