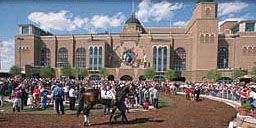 Lone Star Park's Training Schedule for March
(Grand Prairie, Texas - February 3, 2010) - Lone Star Park has announced that its stable area will open to receive horses for the Thoroughbred Spring Meet on Monday, March 15, with the track opening for training on Wednesday, March 17. Lone Star Park will also offer some opportunities for horses to get works over the track prior to March 17.
Lone Star Park's stable area will open for works on Wednesday, March 3, Saturday, March 6, Wednesday, March 10, and Saturday, March 13 from 7:00 am to 10:00 am. Works will cost $20.00 each.
If you should have any questions, please contact the Lone Star Park racing office at (972) 237-5044..