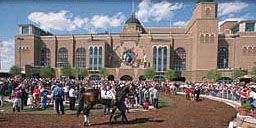 New Main Track Renovation & Grandstand Improvements Highlight 2013 Spring Thoroughbred Season at Lone Star Park
(Grand Prairie, Texas - Friday, January 25, 2013) - Lone Star Park at Grand Prairie announced today that the main racetrack is being completely renovated along with major grandstand improvements to be in place in time for the upcoming 13-week, 2013 Spring Thoroughbred Season beginning Thursday, April 11.
The main track reconditioning is currently underway and will feature a new base and mixture to ensure track safety and consistency:

"During the course of the previous Fall Meeting of Champions for American Quarter Horses, we noticed inconsistencies in the main dirt track that caused some bias during races. A complete investigation by independent, top track and soil experts, found that remnants of the previously used cushion material remained in broad areas of the track. This material caused difficulties grooming the track each day in order to achieve a uniform distribution of cushion from the inner rail to the outside of the racetrack," said Drew Shubeck, Lone Star Park President & General Manager.

The renovation project includes:
1) Removal of all cushion material in order to fully inspect the limestone base.
2) Reapplication of the cushion, allowing sub-cushion material to blend with saved cushion material.
3) Washed sand, clay and organics will be blended to achieve optimum blend of cushion materials.

"Our first and foremost objective is to have a safe and consistent racetrack surface, and we believe these renovations will do just that for our horsemen," said Shubeck.

Club House Dining Terraces to Be Renovated

The changes to the main racetrack are not the only improvements being made at Lone Star Park. Returning customers will notice a significant change on the fourth floor of the 280,000 square foot, glass-enclosed, climate controlled grandstand. The main 1,200 seat Silks Dining Terraces are undergoing a dramatic renovation including new tables and chairs and a completely redesigned television presentation. Additionally, a new menu will be launched just in time for the Spring Thoroughbred season beginning Thursday, April 11 featuring many of the traditional favorites with an influx of exciting new flavors and a wide variety of offerings for the discriminating horse lovers ever changing palate.
Additional Track News
New Exclusion Policy Announced: Lone Star Park also recently announced a new exclusion policy which is consistent with regulations adopted by other racetracks and a written position issued by the Jockey Club last month: "Lone Star Park is committed to ensuring that the racing programs we conduct reflect the highest standards of safety and integrity. Lone Star Park reserves the right not to allocate stalls or accept entries from any horsemen on the suspended list from either the American Quarter Horse Association or The Jockey Club."

2013 Stakes Schedule Announced: Also, the track recently announced its 2013 Stakes Schedule consisting of 11 stakes races totaling over $1.1 million. The schedule is highlighted by the $300,000 Lone Star Park Handicap (Grade III) for three year olds and up at 1-1/16 miles on Monday, May 27 and the $200,000 Texas Mile (Grade III) for three year olds and up at one mile on Saturday, April 27. Check out www.lonestarpark.com for a complete stakes schedule listing.